News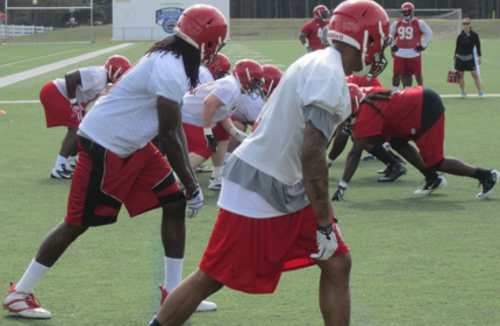 02/24/2012 5:56 PM
-
ST JOHNS COUNTY, FL - The ArenaBowl XXIV Champion Jacksonville Sharks continued its minicamp Friday, holding the team's second no-contact practice in as many days.

As was the case during Thursday's opening practice, the team first completed a series of positional drills. In particular, the defense spent an early portion of practice time working on fumble recoveries.

Following the individual session, the Sharks again worked as a full team for the final hour of practice. Head Coach Les Moss described Friday's practice as "better" than the day before, but admits that there is plenty of work to be done.

"Well I want to see them learn from their mistakes from yesterday and learn from what we installed last night and apply them on the field," Moss said. "We had a better practice today than we did yesterday, but we're still a long way away from where we need to be when we start the season.

Quarterbacks Omar Jacobs and Chris Leak received an approximately equal number of repetitions, as Leak was up first in the team session, leading the Sharks up and down the field before handing the reins over to Jacobs. This structure varied from Thursday's workout, in which the two quarterbacks rotated after a few plays.

Each quarterback worked with every one of the team's wide receivers, looking to develop chemistry with a group of new faces. Of the six full-time receivers currently practicing with the team, Jeron Harvey is the only one familiar with Moss' offense, as Oliver Young, Bobby Sewall, Sean Mackey, Trey Williams and Marquis Avery enter their first season with Jacksonville.

"You know, most of these guys are AFL rookies," Moss said of the group at wideout. "They may have experience, but not a lot in the indoor game. Once they're able to help the quarterbacks out we'll be able to see where we are. I was impressed with with how they adjusted the depths of their routes and the things they learned off the film from yesterday in practice, so that's encouraging."

Harvey Takes on Leadership Role

Last seen making the winning catch as time expired in ArenaBowl XXIV, Jeron Harvey has a resume of proven success in the Arena Football League. To this point in camp, the 28-year-old Harvey has emerged as a leader on the Sharks' offense.

Several times over the camp's first two days, Harvey has remained near the Jacksonville huddle even when his group has rotated out. In doing so, he has tried to help the team's young receiving corps get up to speed.

"We have a lot of rookies, essentially all rookies except for myself," Harvey said. "I'm just trying to do what I do and let them see what I'm doing so they can follow. If they need help, they know they can just come and ask me whatever."

One of those rookies is Bobby Sewall, the lone Ivy Leaguer on the Sharks' training camp roster. The former Brown University star is enjoying his first look at the Arena Football League.

"It's definitely exciting. It's phenomenal just to be in day two, and I'm excited to get to day three, four and so forth," Sewall said. "It's great to be finally back out here, you know, working as a team and working towards a goal of winning something."

In adjusting to arena football, Sewall has looked to Harvey to provide the wisdom that comes with experience in the AFL.

"He's definitely taken the receivers under his wing," Sewall said of Harvey. "He's told us how to play the arena game – it's still football but at the same time there's a lot of different nuances in this game compared to the NFL game or the Canadian game. Jeron's been great at getting me to where I need to be each day in order to produce and help this team win."


Holman Works at Fullback

After fullback Rustin Phillips left practice early due to injury, Rendrick Taylor received nearly all of the reps at the position. However, Jason Holman gave Taylor a breather at times toward the end of practice. Decked out in the red jersey worn by primarily defensive players, Holman showed the versatility that made him a key member of the Sharks' championship team in 2011.

Last season, Holman played every position along the offensive and defensive lines and served as an injury replacement at fullback. In October, Moss described Holman as a "true ironman" who was instrumental in securing his team's ArenaBowl title.


Up Next

The Sharks will wrap up minicamp with a Saturday morning practice that is closed to the public. The team will then conduct physicals with the Sharks' medical staff on Sunday before strapping on the pads beginning Monday morning.


The Jacksonville Sharks are members of the Arena Football League (AFL). The ArenaBowl XXIV and back-to-back South Division Champions are presented by Sea Best Seafood and play all home games on Sea Best Field at the Jacksonville Veterans Memorial Arena. Season Tickets for the 2012 season are now available, two tickets as low as $135. To reserve your season tickets or for more information, please call (904) 621-0700. Follow the Sharks on facebook at facebook.com/jaxsharks and on Twitter @jaxsharks, as well as the Attack Dance Team at facebook.com/sharkattackdance.