News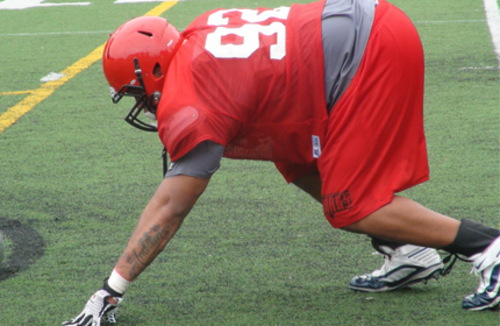 02/27/2012 5:40 PM
-
ST JOHNS COUNTY, FL
- The ArenaBowl XXIV Champion Jacksonville Sharks continued training camp on Monday morning, returning to practice at Plantation Park in St. Johns County.
Monday marked the first time the team wore shoulder pads this season, as the team had held helmet-only workouts for the first three days of camp.
Throughout the first three minicamp practices, defensive back LaRoche Jackson had been outspoken about how much he wanted to practice with pads on. Monday, he and the rest of the Sharks got that opportunity. Physical battles were won on both sides of the ball, and it was clear that putting the pads on raised the intensity level.
"Oh man, it's great having these pads on," Jackson said. "You know watching football all year long, college, NFL, every time I was watching a game I was like "dang, I can't wait to get back on the field and put these pads on."
After having Sunday off, Monday was the team's first day back on the field in two days. Jackson said that the team used the break not only for rest but as a bonding opportunity for still new faces to mesh with returners.
"It was good for the rookies to get that extra studying in without having to go on the field," Jackson said. "I was helping guys so when we come out here with the pads on we would be looking fresh, not looking lost out here."
Coach Moss Seeing Improvement
Sharks head coach Les Moss said last week that he wanted his players to learn from the mistakes they were making during the early practices. The Sharks appear to be doing just that, as Monday's practice, the first with pads on, was the sharpest practice to date.
The wide receivers, a group that at times had trouble with drops throughout minicamp, seemed to make the biggest improvement. With the rain, Monday morning would have been the practice when a few drops might be expected. But instead, the group had its best practice as a unit thus far.
"The younger guys are getting better every single day," Moss said. "That group of receivers as a whole made the most improvement on depths, routes that I ever had. They really picked it up. They understand why we're doing it. They understand the spacing we need in our routes to make things work and they really picked it up good."
The improvement in the receiving corps might have had a lot to do with the addition of Terrance Smith to the unit. Smith returns to the Sharks after being activated from the Arena Football League's "refuse to report" list.
Smith, who joined the team last year as a wide receiver, spent the year playing defense. Now with the new additions to the defense, Smith is making the move back to receiver. Smith made a number of plays throughout practice and seemed to feel right at home, back in his old position. Moss said it is nice to have an athlete with that kind of ability to play both positions.
"It's good to get Terrance in here and get him rolling," Moss said. "He looked good today. He stepped right in today and looked like he'd been there all year. Terrance is a heck of an athlete. He'll be a very good addition to our offense."
While the team is making strides, Moss was also quick to say that they were still a long ways away from where they need to be. In addition to having the receivers continue to improve, Moss said he wants the offensive line to protect the quarterbacks better.
The team has most of the playbook installed by this point. Now it is all about fine-tuning what they've put in. Moss will get his first chance to evaluate the Sharks against another opponent on Saturday when they host the New Orleans VooDoo. The preseason benefit scrimmage will be held at 12:30 p.m. on Sea Best Field inside the Jacksonville Veterans Memorial Arena.
"We've got a long way to go and we know that," Moss said. "We just need to keep working – Keep competing, keep working hard – And get better every day. That's all you can ask."
Roster Shuffle
The Sharks made a pair of additions following Monday's practice. The team announced that DB Bill Alford and LB Buster Davis have been assigned to the 2012 roster.
The 30-year-old Alford (5'9", 190) returns for his third season with the Sharks. When he was last at Sea Best Field, Alford made a key interception to seal Jacksonville's win over the Georgia Force in the 2011 American Conference Championship game.
Davis, 28, played collegiate football at Florida State and was selected by the Arizona Cardinals in the third round of the 2007 NFL Draft. Davis (5'9", 270) made his NFL debut later that year with the Detroit Lions, recording 24 tackles. After practice squad stints with the Indianapolis Colts and Houston Texans, Davis most recently played for the United Football League's Hartford Colonials.
In other roster moves, K Marco Capozzoli has been activated from the Arena Football League's "refused to report" list, while DL Rashaad Duncan was placed on the Physically Unable to Perform list.
Spotlight on Summers
Last season, the Sharks' defense recorded 36 sacks, the second-highest total in the league behind only Tampa Bay. Defensive lineman Derrick Summers was a huge component of that pass rush as he finished fourth in the league in total sacks with 11. Despite putting up big numbers last year, Derrick has his focus centered on the upcoming season.
"Everyone knows from last year that we were a pretty good defense. Everyone is preparing their offense to get ready for us," Summers said. So I feel that this year, expectations are going to be even higher. But the new guys coming in are picking it up really quick, so this year I think we'll be pretty good."
Summers' unique pass rush ability has prompted the Sharks coaches to not only play him as a defensive lineman but linebacker as well, something that Summers was comfortable doing last season. "The Mac linebacker and the defensive end are both pass rushers, so there's really no adjustment to me. Since I played both last year, this year it's been pretty easy for me," he replied.
With today being the first day of training camp with pads, many players on defense looked eager to create some big hits.
Summers took mention of the heightened aggression in camp, noting "I saw a lot of physicality today. Offense looked good, defense looked good. We keep getting better each and every practice."
Up Next
The Sharks take to the practice field again Tuesday with another full-contact workout at Plantation Park. Practice is set to begin at 8:30 a.m. and will be open to the public.

The Jacksonville Sharks are members of the Arena Football League (AFL). The ArenaBowl XXIV and back-to-back South Division Champions are presented by Sea Best Seafood and play all home games on Sea Best Field at the Jacksonville Veterans Memorial Arena. Season Tickets for the 2012 season are now available, two tickets as low as $135. To reserve your season tickets or for more information, please call (904) 621-0700. Follow the Sharks on facebook at facebook.com/jaxsharks and on Twitter @jaxsharks, as well as the Attack Dance Team at facebook.com/sharkattackdance.