News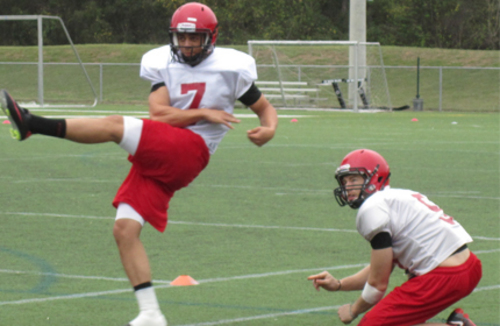 02/28/2012 5:32 PM
-
ST. JOHNS COUNTY, FL
- The ArenaBowl XXIV Champion Jacksonville Sharks continued training camp on Tuesday morning, holding the team's second full-contact practice in as many days at Plantation Park in St. Johns County.
Unlike in Monday's rain-soaked workout, the overcast skies stayed dry on Tuesday. The heightened intensity from Monday's padded practice spilled over, particularly in the one-on-one and team portions of practice.
Jacksonville's wide receivers seemed to have a strong showing on Tuesday, as rookie Oliver Young tipped the ball to himself to make a highlight-reel catch down the sideline and each of his fellow position-mates made plays in the open field.
Sharks veterans continue to work to get newer players up to speed. One of those new players is former Georgia Bulldog Bryan Evans, recently assigned to the 2012 roster.
"The practices are cool, it's a real family oriented team." Evans said. "I like the atmosphere. Everyone has been trying to teach me as long as I've been here, so it's been pretty cool so far."
Capozzoli Takes the Field
After kicking a clutch 36-yard field goal that helped the Sharks clinch the American Conference Championship last season, Marco Capozzoli returns for his second season as Jacksonville's kicker. Capozzoli participated in his first practice of the season on Tuesday.
Though he had not officially hit the practice field since ArenaBowl XXIV, Capozzoli worked throughout the offseason to refine his game.
"I've been training ever since the ArenaBowl," he said. "I took a week off and then I've been back at it. [LaRoche Jackson] and I had been at the field, we practiced at [Jacksonville University] every Monday, Wednesday, Friday, just practicing our holds and snaps, and just kept doing our thing."
Local Ties
Two recent additions to the Jacksonville Sharks' roster are defensive back Bryan Evans and linebacker Buster Davis. A Jacksonville native who attended Edward H. White High School, Evans returns home after spending time with the Cincinnati Bengals in 2010.
A safety at the University of Georgia, Evans is in the midst of a transition to corner this season.
"The motion has been something that has been throwing me off, but it's something you can work on out here," he said. "It's just something you have to adapt to. It's not brand new to me, it's just certain techniques you have to do differently. I'm starting to get those down as we progress."
Like Evans, Davis hopes to make an impact on the defensive side of the ball this season. The former Florida State Seminole hails from Daytona Beach and now coaches at Duval Charter High School. He said that the team's proximity to home definitely factored in his joining the sharks.
"It was very convenient for me," Davis said. "Coach Moss is a very good guy. He knew my agent, so he asked me to come out and see what I thought and I like it. It's a good situation."
Davis hopes to use his work in the AFL to make a positive impression on the young athletes he currently coaches.
"I think also I give my players something to look at, to show them this is how you play football. It's one thing to tell, but you doing it as well is going to give them a lot of confidence and understand exactly what I mean by 'I want to play football all day long.'"
Robbins Returns
Following Tuesday's practice, the Sharks announced that DL Aaron Robbins has been assigned to the 2012 roster. The 28-year-old Robbins (6'3", 265) will begin his second season with the Sharks. Robbins appeared in seven games during the 2011 regular season, recording 15 tackles (nine solo), 2.0 tackles for loss and 1.5 sacks. Robbins also recovered two fumbles.
Robbins has been a member of two consecutive ArenaBowl-winning teams, notching four sacks and five forced fumbles as a member of the Spokane Shock in 2010. A native of Aurora, Colorado, Robbins played at the University of Wyoming.
In another transaction, the Sharks announced that WR Marquis Avery has been placed on the physically unable to perform list.
Up Next
The Sharks continue their preparation for this Saturday's preseason game with another practice on Wednesday morning at Plantation Park. As has been the case over the last two days, it will begin at 8:30 a.m. and will be open to the public.

The Jacksonville Sharks are members of the Arena Football League (AFL). The ArenaBowl XXIV and back-to-back South Division Champions are presented by Sea Best Seafood and play all home games on Sea Best Field at the Jacksonville Veterans Memorial Arena. Season Tickets for the 2012 season are now available, two tickets as low as $135. To reserve your season tickets or for more information, please call (904) 621-0700. Follow the Sharks on facebook at facebook.com/jaxsharks and on Twitter @jaxsharks, as well as the Attack Dance Team at facebook.com/sharkattackdance.