News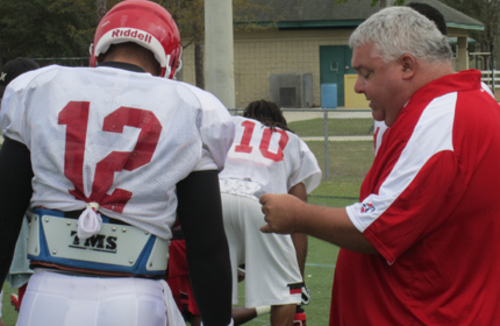 03/02/2012 5:14 PM
-
ST. JOHNS COUNTY, FL
– After Thursday's day off, the ArenaBowl XXIV Champion Jacksonville Sharks got back to work Friday morning at Plantation Park in St. Johns County. Friday's practice served as the team's final tune-up before its preseason matchup with the New Orleans VooDoo on Saturday.
To a man, each member of the Sharks' roster is looking forward to facing a different-colored jersey.
"It's an exciting time to be playing football," quarterback Chris Leak said. "Everybody's starting to gel and get some continuity. It's been a lot of fun for all of us – coaches, players. So we're just really excited and looking forward to playing a great game against a great team."
Players and coaches alike are pleased with the progress the team has made throughout the first week and a half of camp. However, they know there is still work to be done. Saturday's contest will be a good measuring stick to see how this year's roster stacks up against another Arena Football League team.
"You always want to put what you've been working on, on the field in a game situation because anytime they're keeping score you want to win," Leak said. "I think you want to play well regardless. We have an expectation here in Jacksonville. Every step counts towards a championship and this is the first step."
While the offense is looking forward to putting points on the board Saturday, the defense has been chomping at the bit to hit somebody ever since camp started. While the practices are physical and demanding, the physicality is always tempered to a certain degree during training camp, as you are going up against your own teammates. The defense looks forward to that changing Saturday.
"It's been a good physical camp," linebacker Charles Hunt said. "That's the tough part of defense in practice you've got to take it a little easier on the offensive guys but tomorrow we'll actually hit somebody in a different jersey so that will be good."
Hunt was a key member of a defense that ranked sixth in the AFL last year. With many defensive returners including Hunt, defensive backs LaRoche Jackson, JaVonte Holmes and Bill Alford, as well as defensive linemen Derrick Summers and Jason Holman, the Sharks are looking to improve that ranking this season.
With some new additions joining the returning core, the Sharks are anxious to see if they've added the right pieces to make those improvements. Saturday will be the team's first chance to see those players in a game situation.
"We'll get to see how physical a lot of these guys are and that's the true measurement on defense, especially with our defense with [defensive coordinator Jake Grande]," Hunt said. "He's all about physicality. We'll just line up and try to prove that our guys are better then their guys."
Leak Eager for First Taste of AFL Action
Saturday's game against the New Orleans Voodoo will mark the first Arena Football game for some Sharks newcomers - including quarterback Chris Leak. Having played quarterback at the University of Florida and in both the National Football League and the Canadian Football League, Leak is excited to begin a new chapter in his storied career.
"You're always anxious to go out there and play the game you love and have fun with your teammates," Leak said. "It's always a blessing and a joy to play this game; you can never forget that. Everyone doesn't get to do what they want to do for a living. So we're definitely blessed and we're ready to bless others coming into the game. We're excited for our fans, ready to have a good turnout, and win some ball games."
About Saturday's Scrimmage
Kickoff for Saturday's preseason scrimmage is scheduled for 12:30 p.m. on Sea Best Field at the Jacksonville Veterans Memorial Arena. Admission is free of charge, however fans are asked to bring a donation of non-perishable canned food that will be collected outside the arena on behalf of Second Harvest North Florida.
The two organizations will use the event to generate resources needed to feed the food-insecure households throughout the First Coast.
Season ticket holders may enter the arena beginning at 11:00 a.m. Gates will open at 11:30 a.m. for the general public.
The game will also serve as the first chance for season ticket holders to pick up their season tickets for the upcoming season, beginning at 9:00 a.m. at the Duval Room within the arena. Also, season ticket holders are invited to take part in a question and answer session with members of the Sharks management shortly after 9:00.

The Jacksonville Sharks are members of the Arena Football League (AFL). The ArenaBowl XXIV and back-to-back South Division Champions are presented by Sea Best Seafood and play all home games on Sea Best Field at the Jacksonville Veterans Memorial Arena. Season Tickets for the 2012 season are now available, two tickets as low as $135. To reserve your season tickets or for more information, please call (904) 621-0700. Follow the Sharks on facebook at facebook.com/jaxsharks and on Twitter @jaxsharks, as well as the Attack Dance Team at facebook.com/sharkattackdance.