News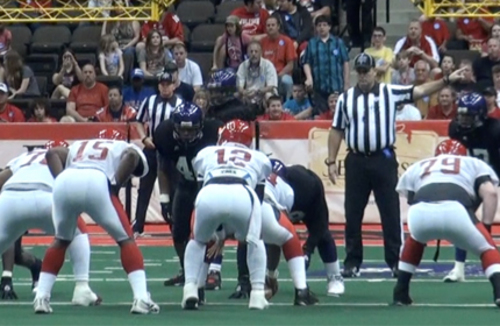 03/03/2012 4:15 PM
- By Tim Bee, JaxSharks.com


JACKSONVILLE
- The ArenaBowl XXIV Champion Jacksonville Sharks came up short in the team's first game action of 2012, losing 49-28, to the New Orleans VooDoo in the teams only preseason scrimmage this year, Saturday at Sea Best Field inside the Jacksonville Veterans Memorial Arena.
The Sharks started off strong but faltered late, with New Orleans scoring the game's final three touchdowns. The offense had trouble moving the ball in the second half and special teams made some costly mistakes throughout the game. Still the preseason scrimmage served its purpose, allowing head coach Les Moss and his coaching staff to evaluate the new talent and see where his team is before they head to the regular season.
"I know the first half we moved the ball well," Moss said. "Just a couple mistakes on that last drive and we would've scored on every possession. And then we're looking at a lot of guys that haven't played a lot of Arena Football, in the second half. I thought our defense did some very good things. We had a couple stops that gave us a chance to win. We just weren't able in the second half to do it offensively."
Former Gator quarterback Chris Leak got the starting nod, playing the entire game in his Arena Football debut. Leak flashed at times, leading the Sharks offense to four touchdown drives on the afternoon. Leak threw two touchdowns in his first taste of Arena Football, including a 45-yard strike to rookie wide receiver Oliver Young midway through the second quarter.
One positive from Leak's performance was his ability to spread the ball around to different receivers. Leak completed at least one pass to seven different receivers and had three receivers that caught at least four balls. Sean Mackey led the way with six catches for 50-yards. Young added five receptions for 84 yards and a touchdown, while Terrance Smith finished with four grabs, including a 10-yard touchdown for the Sharks first score of the game. Smith also ran for a touchdown.
However, Leak also struggled down the stretch, showing that his adjustment to the Arena game is not quite complete. Leak finished the afternoon with 218 yards on 22-of-44 passing for two touchdowns and two interceptions.
"I feel great," Leak said. "I know this is a transition period for me. It's just great to get this experience. You can't buy experience. Once I watch the film and go back and look at all the things - fundamentals, reads, footwork - it will all come together. We all are going to come back and learn from our mistakes and try to improve everyday."
Special teams hurt the Sharks as VooDoo kick returner Skyler Green took the opening kickoff back 58 yards for a touchdown, giving New Orleans a 7-0 lead after just one play
However, the Sharks answered, scoring touchdowns on each of their first three possessions. The teams went into the locker rooms tied 21-21 at halftime.
Special teams cost the Sharks again late in the fourth quarter. After a 3-yard touchdown run by New Orleans' receiver Greg Ellingson, the Sharks muffed the ensuing kickoff that bounced off the net. The play resulted in a touchdown net recovery by VooDoo defensive back, Demarcus Robinson, giving New Orleans a 42-28 lead that they would never relinquish.
"We give up a kickoff for a touchdown. We give up a ball off the net for a touchdown. Those things happen special teams wise in this game," Moss said. "It's kind of hard to recover from. That's 14 points right there."
The Sharks will hit the practice field Monday to begin their final week of training camp before entering the 2012 regular season. The team will enjoy a week one bye week before heading to Kansas City, Mo. to take on the Command on March 16 at 8:30 p.m.