News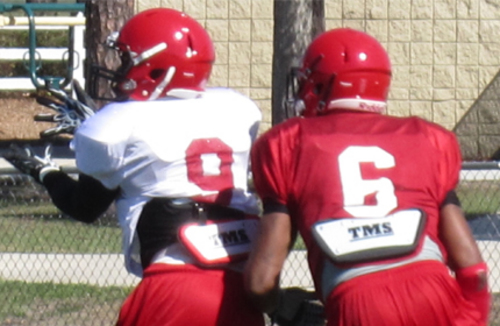 03/05/2012 5:27 PM
-
ST. JOHNS COUNTY, FL
- The ArenaBowl XXIV Champion Jacksonville Sharks got back to work Monday, practicing at Plantation Park in St. Johns County. The practice was the team's first workout since Saturday's preseason scrimmage against the New Orleans VooDoo.
A number of new faces made their Arena Football League debuts Saturday for the Sharks. Of the current training camp roster, less then half of the players had played Arena Football before Saturday's scrimmage. Despite the Sharks' 49-28 loss, a number of newcomers made the best of their first AFL experience. Included in that group is a pair of rookie wide receivers in Oliver Young and Sean Mackey.
Young caught five passes for a team-high 84 yards and one 45-yard touchdown catch against the VooDoo. Mackey led the team in catches with six for 50 yards in his AFL debut. For a pair of receivers still looking to make the adjustment from the outdoor game to the indoor game, it was good for them to get their first game under their belt.
"It felt real good," Mackey said. "It was my first my first game since college (Union KY) so it was a real good step for me. It was very different, especially with it being my first time on turf. I think I played good but I know I have a whole lot of things I got to work on."
One thing Mackey wants to work on is to continue to develop chemistry with quarterbacks Chris Leak and Omar Jacobs, especially since Leak is also making the adjustment to Arena Football. With training camp winding down and the regular season coming soon, it will be important for the quarterbacks and receivers to continue to make strides.
"The chemistry is going good," Mackey said. "Every receiver is getting our timing down."
Woodson Gets First Taste
As is the case in the receiving corps, the Sharks' secondary consists of a number of players who got their first Arena Football League game experience in Saturday's scrimmage. One such player is former University of South Carolina corner Stoney Woodson.
In talking about his adjustment to the indoor game, Woodson emphasized that "football is football" no matter what size field it's played on. Still, he admitted that there are some key differences between the two games that take getting used to.
"Learning game, it's a little faster, a little less people on the field," Woodson said. "Picking up the motion is different than in the other leagues because they're coming full speed at you."
Roster Shuffle
The Sharks announced several transactions on Monday, as LB Aaron Robbins and OL Eric Davis have been activated from the refused to report list. The Sharks had acquired Davis from the Arizona Rattlers in exchange for future considerations on Friday.
In other transactions, LB/WR Charlie Hunt was placed on the physically unable to perform list while DL Elisee Pompilus, OL Vernard West and DL Arthur Thomas were placed on reassignment.
Up Next
The Sharks return to the practice field on Tuesday morning for the second-to-last practice of training camp. Tuesday's practice is scheduled to be held from 8:30 a.m. to noon at Plantation Park and is open to the public.
The Jacksonville Sharks are members of the Arena Football League (AFL). The ArenaBowl XXIV and back-to-back South Division Champions are presented by Sea Best Seafood and play all home games on Sea Best Field at the Jacksonville Veterans Memorial Arena. Season Tickets for the 2012 season are now available, two tickets as low as $135. To reserve your season tickets or for more information, please call (904) 621-0700. Follow the Sharks on facebook at facebook.com/jaxsharks and on Twitter @jaxsharks, as well as the Attack Dance Team at facebook.com/sharkattackdance.