News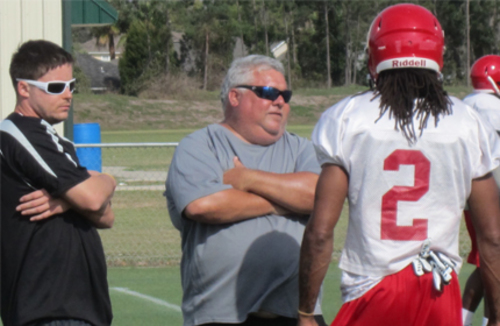 03/07/2012 5:14 PM
-
ST. JOHNS COUNTY, FL
- The ArenaBowl XXIV Champion Jacksonville Sharks held their third practice in as many days on Wednesday at Plantation Park in St. Johns County. Though the team is still technically in training camp through the end of this week, the focus will soon turn toward the March 16 regular-season opener in Kansas City.
As the regular season looms, head coach Les Moss said he was pleased with the way his team competed in training camp.
"The effort has been outstanding," Moss said. "These guys have all worked hard together, been very professional. I couldn't be happier with the effort we got out of them. We've had a very competitive camp."
Now, the Sharks coaching staff must shoulder the responsibility of shaping the 35-man training camp roster into a 24-man roster for the regular season. With how competitive this year's camp was, Moss and his coaching staff will have some difficult decisions to make.
This process is tough on players and coaches alike. Moss said the team bonds over the span of training camp, building camaraderie as if each player is going to be there the entire season. This makes it even more difficult when a player has to part ways with the teammates with whom he has spent the past two weeks.
"This is the worst time of the year really for coaches," Moss said. "These guys will get other shots but they wanted to be here. It's never fun, especially when you're doing something you love."
The defensive backfield serves as a perfect example of this process. Throughout training camp, veterans LaRoche Jackson, Bill Alford and JaVonte Holmes have competed with rookies T.J. Wright, Bryan Evans, Stoney Woodson and Daylan Walker, totaling seven players competing for a limited number of spots.
"I think they did pretty well," defensive coordinator Jake Grande said of his defensive backs. "I think when you rebuild every year in Arena Football that's kind of how it is. Every year you're bringing new guys in trying to find new talent. So I think we've got a good crew overall on the whole team, not just secondary. So I think we're pretty excited about it."
Terrance's Take
Wide receiver Terrance Smith enters his second year with the Sharks, looking to have the same impact on offense as he did as part of the Sharks' defense in 2011. Following Wednesday's practice, Smith shared his thoughts on where the club stands at this point.
"I feel the team is in a good position right now," Smith said. "We're becoming a team and that's the main focus of training camp; becoming a team, becoming a unit and depending on each other. I like our position, we have some returning players from last year, some veterans at different positions. It feels good right now and I couldn't ask for a better group of guys."
Last year, Smith went through camp as a defensive back and recorded six interceptions during the regular season. This year, moving to wide receiver has given him a different perspective on the overall feel of training camp.
"The difference is last year I was a rookie and I didn't really understand. I was coming out of the NFL and thought I was hot but I didn't really know what to do in the game of Arena Football. So this year, it is different being on the offensive side of the ball. I understand what I did last year and understand the game of last year. The difference is the confidence I have," Smith said.
Even as a returner from last year's championship team, Smith recognizes that this time of year always brings nerves.
"Last year I thought I'd make the team, but I didn't have the sure fact that 'you're on the team,' so last year around this time I was very nervous and you can tell some of the guys are like that too. It's hard to have fun when there's too much pressure," Smith said. "It's just something that you have to do and we're just trying to get guys to have fun doing it."
A Unique Bye Week
The Arena Football League season officially kicks off this weekend, beginning Friday at 8 p.m. when the Orlando Predators welcome the Pittsburgh Power to the Amway Center.
However, the Sharks will have to wait another seven days to begin their title defense, as the team faces the unique situation of having a Week 1 bye week. Following Wednesday's practice, Moss expressed mixed feelings about the early bye.
On one hand, it will give his team a little longer to come together and prepare, especially with several players added to the roster late in camp. With that said, it could hurt the Sharks down the road if injuries begin to mount.
Having never had a bye week to open the season, Moss said he doesn't really know what to think about it.
"Only time will tell," Moss said. "This is a new experience for me. When the schedule was announced I wasn't happy about it. But maybe in the end I will be."
Transactions
Following Wednesday's practice, the Sharks announced that DL Johnny Dingle, DB Stoney Woodson and WR Jason Harmon have been placed on reassignment.
Up Next
The team will have Thursday off, giving players a chance to rest before Friday's practice at Glen Kernan Golf and Country Club. Friday morning's practice will be closed to the public.
The Jacksonville Sharks are members of the Arena Football League (AFL). The ArenaBowl XXIV and back-to-back South Division Champions are presented by Sea Best Seafood and play all home games on Sea Best Field at the Jacksonville Veterans Memorial Arena. Season Tickets for the 2012 season are now available, two tickets as low as $135. To reserve your season tickets or for more information, please call (904) 621-0700. Follow the Sharks on facebook at facebook.com/jaxsharks and on Twitter @jaxsharks, as well as the Attack Dance Team at facebook.com/sharkattackdance.