News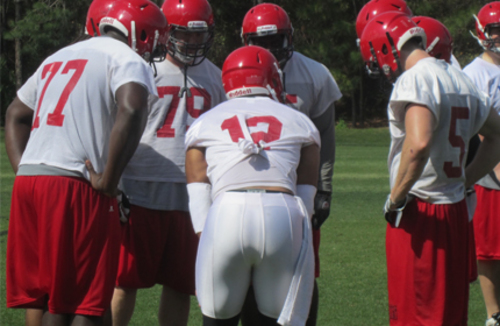 03/10/2012 5:23 PM
-
JACKSONVILLE
- The ArenaBowl XXIV Champion Jacksonville Sharks have concluded training camp, as the team conducted the final practice of camp on Friday morning at Glen Kernan Golf & Country Club in Jacksonville. The Sharks then had an off day on Saturday.
Each member of the Sharks has had a number of chances to impress the team's coaching staff. Now, head coach Les Moss and his assistants must settle on the 24-man roster with which the Sharks will open the regular season.
Entering his second year with the team, defensive back LaRoche Jackson knows this stretch of the season is touch on each player, something he spoke about following Friday's practice.
"That's the bad part of this business," he said. "You come in to camp, you meet good guys and get close to good guys. Maybe you become good friends with guys, and then having to see your friend leave because of the business side of the game."
Jackson acknowledged that once game preparation begins, practices take on a bit of a different tone as the team is eager to get the regular season underway.
"Now we come to practice and everybody knows what's expected, knows what Coach expects out of them," he said. "We come to practice with everything we did in training camp and translate it into the regular season, go out and do our best in practice and try to get a victory next week."
The Scoop on 'Z'


This past offseason, the Sharks began their search for a new center to anchor their offensive line. Enter 320 pound lineman Zarah Yisrael, a candidate to fill the position who is no stranger to the indoor game. As center for the AF2's Rio Grande Valley Dorados, he helped his team to a 9-7 record and a postseason berth.
He's also no stranger to the city of Jacksonville. As a graduate of Terry Parker High School, Yisrael is excited to be back playing football in his hometown.
"It's pretty cool. I've gotten a warm reception from people from my high school because I'll go back there and train from time to time. A bunch of folks have contacted since coming back," said Yisrael.
Yisrael even credits Terry Parker's Wing-T offense for making him a better run blocking lineman, which he believes made it easier for him to pick up pass protection schemes at Iowa Wesleyan College, Troy University, and in his professional career.
"I'm a run blocking lineman first and a pass protection lineman next. I believe it's easy to teach a run blocking lineman to pass protect but not to teach a pass protecting lineman to run block."
As a guard at Troy University, Yisrael's physicality became well publicized throughout the scouting community. During his Pro Day workout, Yisrael bench-pressed 225 pounds a remarkable 48 times.
The current NFL combine record is 49 reps set last year by Oregon State defensive tackle Stephen Paea.
After that impressive workout, Yisrael subsequently received training camp invites from the Jacksonville Jaguars and the New Orleans Saints. Later, he was drafted number one overall by Team Arkansas in the inaugural All American Football League Draft.
Now entering his first year in the Arena Football League, Yisrael believes has adapted well to his new team.
"Its funny, it's almost like my natural spot where I should be playing in the first place."
Transactions
The Sharks made one transaction on Friday, as V'keon Lacey was assigned to the 2012 roster. The 23-year-old Lacey played collegiate football at Angelo State University, where he caught 127 passes for 1,447 yards and 15 touchdowns.
On Saturday, the team made several transactions, announcing that OL Eddie Williams, WR Trey Williams, LB Frank Padilla and FB Andres Morales were placed on reassignment, LB Buster Davis and WR Oliver Young were placed on the Physically Unable to Perform list and WR/LB Charlie Hunt was transferred from the Physically Unable to Perform List to Injured Reserve.


Up Next


The team hits the practice field on Sunday morning to begin their "game-week" preparation in advance of next Friday's game in Kansas City. Sunday's practice will be held at 9:30 a.m. at The Bolles School.



The Jacksonville Sharks are members of the Arena Football League (AFL). The ArenaBowl XXIV and back-to-back South Division Champions are presented by Sea Best Seafood and play all home games on Sea Best Field at the Jacksonville Veterans Memorial Arena. Season Tickets for the 2012 season are now available, two tickets as low as $135. To reserve your season tickets or for more information, please call (904) 621-0700. Follow the Sharks on facebook at facebook.com/jaxsharks and on Twitter @jaxsharks, as well as the Attack Dance Team at facebook.com/sharkattackdance.