News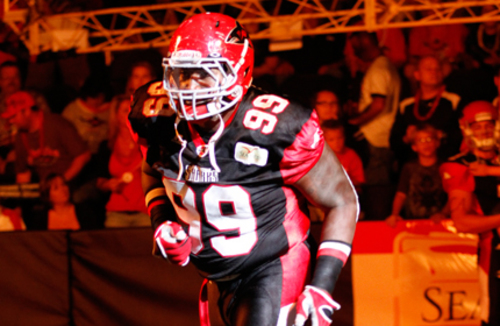 04/15/2012 5:53 PM
- By Tim Bee
To the average football fan, when they hear about a 6-foot-3, 295-pound player, versatility probably is not the first word that comes to mind. They might hear those measurables and see that player as nothing more than another huge body on either the offensive or defensive line.
The average fan would be wrong in the case of the Sharks' Jason Holman, who throughout his football career has made a living playing at a high level on both sides of the ball. It is rare to come across a player with the right combination of size and athleticism needed to play on both the offensive and defensive lines. However, Holman is the complete package.
"Jason is our MVP from last year, our most versatile player," head coach Les Moss said. "He can play any position on the offensive line or defensive front. He can play all eight of them and he does a good job at all of them."
Holman's versatility was noticed at a young age. He started football on the offensive line at James River High School in Midlothian, Virginia. It was at James River where Holman got his first taste of defense when head coach Chris Bell would bring him in to get key stops. Bell later described Holman as "the team's best lineman on both sides of the ball."
After high school Holman played center for two years at the University of Maryland. He then transferred to Winston-Salem State University where he moved permanently to defense. In two years at Winston-Salem, Holman recorded 74 tackles, 14 tackles for loss, three sacks, three forced fumbles and one fumble recovery.
The now three-year Arena Football League veteran has played primarily on the defensive line throughout his professional career. However, Moss noticed Holman's versatility during the 2011 season and decided to give him snaps at offensive guard and center.
The move proved to be a smart one as Holman helped bolster an offensive line that allowed the least sacks in the AFL (11) and propelled the Sharks to an ArenaBowl XXIV Championship. Holman also had six sacks on the defensive side; good enough for second on the team.
Heading into the 2012 season, Holman entered camp again focusing primarily on the defensive side of the ball. But when questions arose about the Sharks pass protection early on, Holman was again called upon to help anchor the offensive line.
"I just do whatever I can to help the team," Holman said. "I definitely like defense because I get to deliver more of the blow then actually take it. But I'll do anything I can to help the team win. If they need me on offense, I'll get over there and play offense."
In addition to playing on both lines, the Sharks have been experimenting with Holman at the fullback position. This essentially allows the Sharks to have four pass protectors, giving quarterback Omar Jacobs a little more time to make his throws.
"I hold myself to a standard to where I don't want the quarterback to get hit at all," Holman said. "That's the standard we had with [Aaron Garcia] and that's the standard with Omar."
Traditionally, a fullback's job is not only to pass protect, but to run the ball as well. Holman isn't sure if Moss will ever go as far as to use him in that kind of role but he said he'd be ready if he got the chance.
"Of course every fat man has hoop dreams," Holman said. "But I don't know if that's actually going to happen. I'm just going to make sure I'm ready in case he ever does want to give me the ball. I'm not really a dancer but if I ever score a touchdown I think I might have to come up with something."
Being a veteran, Moss looks to Holman to be a leader for the Sharks. Holman is admittedly a lead-by-example kind of guy. The amount of work Holman puts in to succeed at multiple positions is something he hopes will rub off on the rest of the team.
Holman also admits that there is still room for improvement. He holds himself to a high standard and knows that he can always get better. Even with room for improvement, Holman is one of the Sharks most valuable weapons at their disposal.
"I guess it's helped me along my career to be versatile," Holman said. "It's helped me stay productive and stay on the team so I'm just trying to keep it going."