News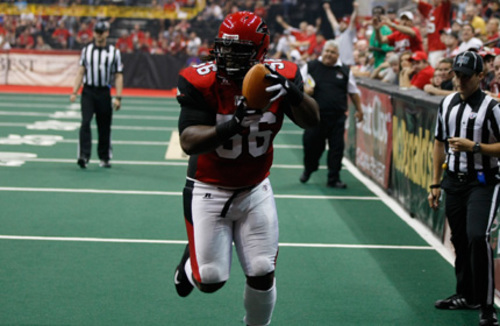 04/28/2012 9:46 PM
-
JACKSONVILLE
- The ArenaBowl XXIV Champion Jacksonville Sharks sustained a furious rally in the second half but fell one score short, as the Spokane Shock emerged on the better end of a 56-48 final in front of 10,470 at Sea Best Field on Saturday night.
The Sharks (2-4) trailed 49-40 shortly before the one-minute warning when quarterback Omar Jacobs hit Jamarko Simmons for a touchdown and followed with a two-point conversion toss to Terrance Smith to bring the Sharks within a point.
Spokane (3-3) responded with a touchdown from Kyle Rowley to Brandon Thompkins but elected to kick the extra point, keeping Jacksonville within one score. The Sharks moved into the red zone in the final minute, but Jacobs' pass to the end zone deflected off of the rail below the rebound net and was intercepted by Beau Bell.
Before their rally fell short, the Sharks had battled back from a 49-28 third-quarter deficit thanks to a key defensive stop.
Spokane's early lead came as a result of three first-half interceptions , including an interception returned for a touchdown by Shock defender Freddie Harris immediately after a Spokane offensive touchdown. In the second, Terrance Sanders picked off Jacobs and returned it to the one, setting up another Spokane score.
Jacobs finished 37-of-52 for 371 yards, seven touchdowns and four interceptions. His 52 attempts set a new franchise record, while the 37 completions tied the all-time team mark and those 371 yards represented a season high.
For the first time this season, three Jacksonville receivers each topped the century mark. Terrance Smith led the squad with 125 yards and three touchdowns, while Jamarko Simmons and Bobby Sewall each pulled in 11 passes for 112 and 107 yards, respectively.
Playing in his first game since being activated from injured reserve, offensive lineman Vladimir Richard opened the scoring with a touchdown catch for Jacksonville's first score. Also notable was the ironman effort of lineman Jason Holman, who played the vast majority of the game at both fullback and nose tackle.
On the flip side, Rowley finished 20-for-26 for 218 yards, six touchdowns and no interceptions. Adron Tennell led the Shock with eight caches for 117 yards and a pair of scores, while Brandon Thompkins chipped in with a pair of touchdowns as well.
The Sharks return to action next Friday, when they will welcome the New Orleans VooDoo to Sea Best Field. The game will air on NFL Network's "Arena Football Friday" and will be the Sharks' first appearance on national television this season. Kickoff for Friday night's game is set for 8:00 p.m.
Media Awards
Russell Athletic Offensive Player of the Game - Spokane QB Kyle Rowley
Riddell Defensive Player of the Game - Spokane LB Freddie Harris
JLS Ironman of the Game - Jacksonville OL/DL Jason Holman
AFL Playmaker of the Game - Jacksonville WR Terrance Smith
Cutters Catch of the Game - Jacksonville WR Bobby Sewall's 37-yd touchdown catch
Spalding Highlight of the Game - Jacksonville WR Bobby Sewall's 37-yd touchdown catch
National Guard MVP of the Game - Spokane QB Kyle Rowley