News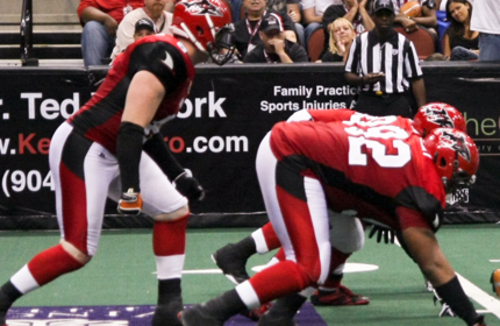 05/03/2012 5:24 PM
-
JACKSONVILLE
- The ArenaBowl XXIV Champion Jacksonville Sharks will make their first national television appearance of 2012 this weekend, as they host the New Orleans VooDoo on Sea Best Field at the Jacksonville Veterans Memorial Arena on Friday night. The game will air live on NFL Network as part of "Net10 Arena Football Friday."
Jacksonville (2-4) enters this weekend's game looking for the team's first home win of 2012, as they dropped a 56-48 decision to the Spokane Shock last Saturday night. In that game, the Sharks charged from behind to close a three-touchdown deficit to within a point, trailing 49-48 in the fourth quarter. After a Shock touchdown, the Sharks drove into the red zone in the final minute until an interception sealed the game for Spokane.
Ultimately, an early 28-7 deficit proved to be too much to overcome. Quarterback Omar Jacobs threw four interceptions including a "pick-six" returned by Spokane's Freddie Harris and another that was returned inside the five yard line, setting up the Shock offense in prime scoring position.
Despite the interceptions, Jacobs threw for 371 yards, setting a new season high. The Sharks' receiving corps enjoyed its most balanced output of the season, as Terrance Smith, Bobby Sewall and Jamarko Simmons each caught at least 10 passes for 100 or more yards. Those three players combined for six of Jacobs' seven touchdown passes, while offensive lineman Vladimir Richard hauled in the other.
For Smith, the game against Spokane solidified the second-year veteran's position as one of the top playmakers in the AFL. He pulled in three touchdown receptions against the Shock, raising his team-high total to 14. Taking his rushing and kick return scores into account, Smith leads the Sharks and ranks tied for fifth in the league with 19 total touchdowns. He continues to lead the entire AFL with 216.2 all-purpose yards per game and is one of just two players to average 200 or more all-purpose yards per contest.
Last Saturday's game also helped Jason Holman further state his case as the Sharks' most versatile player. Starting at nose guard, Holman then filled in for injured fullback Ailao Eliapo partway through the first quarter. He played on both sides of the ball for the rest of the game, and was rewarded with the distinction of being named the JLS Ironman of the Week. Holman has started all six of Jacksonville's games at three different positions.
Holman is part of a Shark defensive line that got a boost in depth this week, as the team added rookie David Howard to the roster. Howard was a college teammate of Jacksonville receiver Bobby Sewall at Brown and has spent time in camp with three different NFL teams. Also, defensive lineman Derrick Summers is set to return to action this week after missing last Saturday's contest.
Know Your Foe
In their first year under head coach Pat O'Hara, the New Orleans VooDoo (3-3) have already matched the team's 2011 win total. Coming over from the division rival Orlando Predators, O'Hara has helped the VooDoo secure its first home win since 2008 and led the team to within a half-game of the division lead at this point in the year.
New Orleans' offensive attack is led by Kurt Rocco, who moved to New Orleans after spending his rookie season with the Cleveland Gladiators. The 24-year-old Rocco played at Division III powerhouse Mount Union and has thrown 35 touchdowns against just four interceptions in 2012.
Rocco has not singled out a favorite target to this point in the season, as L.J Castile, Greg Ellingson, Josh Bush and Quorey Payne all average better than 69 receiving yards per game and have each scored six or more touchdowns in 2012.
The VooDoo defense has developed a unique trend through their first six games. The entire team has combined to accrue just two quarterback sacks, yet that lack of consistent pressure has not stopped the secondary from being productive. As a team, the VooDoo have victimized opposing quarterbacks to the tune of 12 interceptions, a total that ranks tied for fourth in the league – though each of the three teams above them have played seven games to New Orleans' six.
This represents an interesting contrast to the Sharks' defense. The Sharks rank near the middle of the pack with nine sacks as a team but have intercepted just one pass in 2012 – and that came in the season opener against Kansas City. Surely, a timely takeaway or two could swing momentum in Jacksonville's favor and send the fans home happy from Sea Best Field.
The Jacksonville Sharks are members of the Arena Football League (AFL). The ArenaBowl XXIV and back-to-back South Division Champions are presented by Sea Best Seafood and play all home games on Sea Best Field at the Jacksonville Veterans Memorial Arena. Season Tickets for the 2012 season are now available, two tickets as low as $99. To reserve your season tickets or for more information, please call (904) 621-0700. Follow the Sharks on facebook at facebook.com/jaxsharks and on Twitter @jaxsharks, as well as the Attack Dance Team at facebook.com/sharkattackdance.