News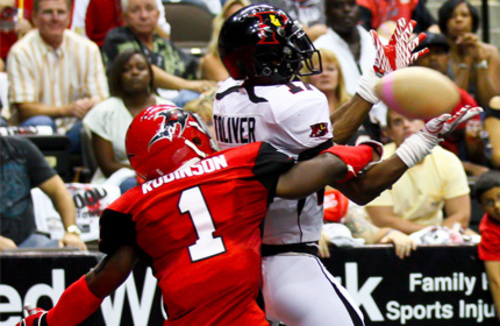 05/24/2012 5:19 PM
-
JACKSONVILLE
– The ArenaBowl XXIV Champion Jacksonville Sharks have faced the Orlando Predators more often than any other opponent. The two teams will meet for the first time in 2012 on Friday night, squaring off at Amway Center in Orlando in a game that will air live on NFL Network as part of "Net10 Arena Football Friday." Kickoff for Friday night's game is set for 8:00 p.m.
This will be the seventh overall meeting between the two squads in a little more than two calendar years. In the Sharks' previous two seasons in the Arena Football league, Jacksonville and Orlando played twice in each regular season and met in the first round of the playoffs in both 2010 and 2011. Jacksonville holds a 3-1 edge in the regular-season series, while the teams have split their two postseason matchups.
Friday's contest marks the first of three consecutive divisional games for the Sharks. Entering this week of action, Jacksonville sits at 4-5, just a game and a half behind first-place Georgia (6-4) and a half-game behind the 5-5 Tampa Bay Storm. With the Sharks set to play the Storm (June 2) and Force (June 9) after this week's game, this upcoming stretch could prove pivotal in the South Division.
Jacksonville will do its best to build on last weekend's dominating defensive performance in the team's 55-19 home win over the Iowa Barnstormers. In that game, the Sharks set a new franchise record for fewest points allowed in a game and became the first AFL team to hold an opponent under 20 points since May of 2010. The Shark defense generated constant pressure on Barnstormer quarterback Chris Dieker, recording three sacks and four turnovers.
The many defensive highlights from last week's game included Micheaux Robinson's two first-half interceptions and a third-quarter play in which Scooter Berry sacked Dieker from the blind side and forced a fumble that was recovered and returned for a touchdown by nose guard Jeff Littlejohn.
A rookie from West Virginia, Berry has emerged as one of the Sharks' top pass rushers, racking up a sack in four of the last six games. Overall, Berry leads the team with five sacks in 2012. The Shark front four should get a boost this week from Jabari Fletcher, who recently joined the team after being acquired in a trade with the Arizona Rattlers.
On offense, quarterback Bernard Morris is set to make his third consecutive start after replacing an injured Omar Jacobs in Week 9 against New Orleans. Last Saturday against Iowa, Morris enjoyed his most efficient game of the 2012 season, as he had four touchdown passes, no turnovers and just six incompletions.
Morris was helped on one of those four touchdowns by Terrance Smith, who out-jumped two Barnstormer defenders to catch a pass that deflected high off the rebound net for a touchdown in the first quarter. Smith continues to produce as he has all season, as he now leads the team with 20 touchdown receptions and 25 touchdowns overall. Moreover, Smith has been consistent throughout the season, crossing the goal line at least two times in eight of the team's nine games.
Smith and the Shark offense will need to be on point this week as they match up against a Predator team that ranks second in the league in scoring defense (50.2 points per game).
Know Your Foe
This season, the Orlando offense has been just as inconsistent as the team's defense has been effective. The Predators have used three different starting quarterbacks this season, including Collin Drafts, who now serves as Morris' backup with the Sharks. Orlando ranks second-to-last among AFL teams in scoring offense and only scored 27 points in their lone win to this point in the season.
The third starter that Orlando has used at the position is none other than Chris Leak, who began the season with Jacksonville before being traded to the Predators in April. After appearing in a reserve role in Week 9, Leak started against the New Orleans VooDoo last Friday night.
Completing his first pass for a 45-yard touchdown – the first of six TD tosses in the first half – Leak faltered late in the game, throwing four interceptions in the Predators' 68-61 loss. Leak found instant chemistry with receiver T.T. Toliver, as the veteran wideout racked up 210 yards and five touchdowns on 13 receptions against the VooDoo.
On defense, Orlando's top performers have been defensive back Travis Coleman, who leads the team with six interceptions, and linebacker Marlon Moye-Moore, who has notched eight tackles for loss and a pair of fumble recoveries.
Next Home Game
The Sharks will return to Sea Best Field on Saturday, June 2 as they host the Tampa Bay Storm in another divisional contest. It will be Star Wars Night, and fans are encouraged to dress as their favorite character from the film series. Kickoff for next Saturday's game is set for 7:00 p.m.
About the Jacksonville Sharks
The Jacksonville Sharks are members of the Arena Football League (AFL). The ArenaBowl XXIV and back-to-back South Division Champions are presented by Sea Best Seafood and play all home games on Sea Best Field at the Jacksonville Veterans Memorial Arena. Season Tickets for the 2012 season are now available, two tickets as low as $75. To reserve your season tickets or for more information, please call (904) 621-0700. Follow the Sharks on facebook at facebook.com/jaxsharks and on Twitter @jaxsharks, as well as the Attack Dance Team at facebook.com/sharkattackdance.