News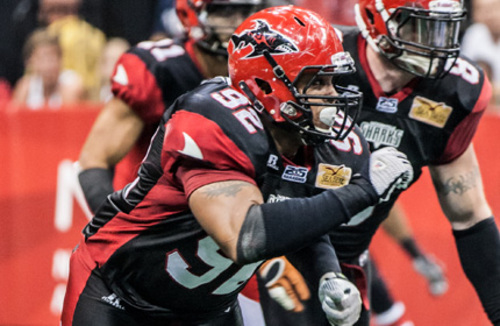 06/21/2012 12:49 PM
-
JACKSONVILLE
– The ArenaBowl XXIV Champion Jacksonville Sharks will host the Cleveland Gladiators on Saturday, June 23 on Sea Best Field at the Jacksonville Veterans Memorial Arena. Saturday's Week 16 contest is set to kick off at 7:00 p.m.
With just five weeks left in the 2012 Arena Football League regular season, there is no doubt that every game impacts the playoff race. But Saturday's contest could prove especially pivotal, as it matches up two 6-7 teams competing for the two wild card spots in the American Conference.
Entering this week's action, the Sharks hold the tiebreaker over Cleveland, the Tampa Bay Storm, and the New Orleans VooDoo thanks to a 3-1 record in games against those three teams. Because of that edge, the Sharks currently occupy the No. 3 seed in the conference, while the VooDoo hold the final playoff spot and both Cleveland and Tampa Bay sit on the outside looking in. But with a myriad of different scenarios in play, the playoff picture will continue to change drastically from week to week as the season nears its conclusion.
The Sharks have another path to a playoff berth as well, as the South Division remains wide open. The 7-7 Georgia Force hold a tenuous half-game lead in the division and face a tough road test this week against the Utah Blaze. Though the Force hold the head-to-head tiebreaker against the Sharks, Jacksonville does play three of its final five games in front of its home crowd.
This weekend's game serves as a rematch of the Sharks' 54-49 win in Cleveland back on April 21. In what was a close game throughout, Shark quarterback Omar Jacobs hit Bobby Sewall for a go-ahead, 25-yard touchdown with just 14 seconds remaining. The Gladiators had a final shot, but the Jacksonville defense held to make Sewall's score stand up and send the team back home with a victory.
Though the Sharks can prepare with the confidence of having already beaten this week's opponent, much has changed for both teams since that meeting two months ago. Perhaps no change is more significant than at quarterback, where Bernard Morris is set to make his seventh start since Jacobs was placed on injured reserve.
Morris looks to bounce back from last weekend's loss to the Philadelphia Soul, in which the quarterback threw three interceptions and lost two fumbles. Overall, Jacksonville committed seven turnovers while getting just one takeaway – a disparity that resulted in a comfortable Soul victory. Morris hopes to return to the form he showed in a four game stretch from late May to early June, in which he fired 21 touchdown passes against just three interceptions.
The Sharks continue to boast one of the top running attacks in the AFL, ranking second in the league with an average of 33.3 yards per game. With a mix of scrambles and designed runs, Morris leads the entire league in averaging 5.7 yards per carry and ranks second in rushing yards. In addition to Morris' dynamic legwork, fullback Rendrick Taylor has emerged as a consistent contributor as well. Taylor has rushed for 10 or more yards in five straight games and ranks third in the league in total rushing yards despite missing four games earlier in the season.
On defense, Aaron Robbins and Scooter Berry each notched a half of a sack in last weekend's game, further solidifying their positions near the top of the league's leader board. Berry (7.5 sacks) and Robbins (7.0) rank fourth and fifth, respectively, in individual sacks among all AFL players in 2012.
In addition to the productive pass rush, the Jacksonville secondary has shown playmaking flair of late. Bill Alford's 47-yard interception return for a touchdown in last Saturday's game marked the second straight game in which a Shark defender has brought one back for a score. Though Jacksonville lost each of those two games, a pick-six this weekend could prove significant in what should be a tightly contested ballgame.
Know Your Foe
The Cleveland Gladiators have stumbled of late, entering this week's action in the midst of a four-game losing streak. Last weekend, the New Orleans VooDoo charged from behind, outscoring Cleveland 26-0 in the fourth quarter to knock off the Gladiators in their own building. The result propelled New Orleans into a playoff position and has Cleveland on the outside of the playoff picture as of now.
The Gladiators are helmed by veteran John Dutton, who has thrown 64 touchdowns against 14 interceptions this season. Though Dutton does not rank among the league leaders in pass efficiency, he has found a consistent target in receiver Dominick Goodman, who has pulled in 121 receptions for 1,269 yards and 26 touchdowns. The Sharks are certainly aware of Goodman's talents, as the receiver racked up 189 yards and three scores on 17 catches in the teams' first meeting.
On defense, Morris will have to constantly be aware of Levy Brown, who has hauled in 8 of Cleveland's 20 interceptions this season. The Gladiator pass rush will have to compensate for the loss of sack leader Drew Berube, who was placed on injured reserve earlier this week, though Mac linebacker Tim Cheatwood has a proven track record of getting after the quarterback. Overall, the Shark offense will face a tough task, as the Gladiator defense leads the AFL in allowing just 49.4 points per game.
About the Jacksonville Sharks
The Jacksonville Sharks are members of the Arena Football League (AFL). The ArenaBowl XXIV and back-to-back South Division Champions are presented by Sea Best Seafood and play all home games on Sea Best Field at the Jacksonville Veterans Memorial Arena. Season Tickets for the 2013 season will soon be available. To reserve your season tickets or for more information, please call (904) 621-0700. Follow the Sharks on facebook at facebook.com/jaxsharks and on Twitter @jaxsharks, as well as the Attack Dance Team at facebook.com/sharkattackdance.