News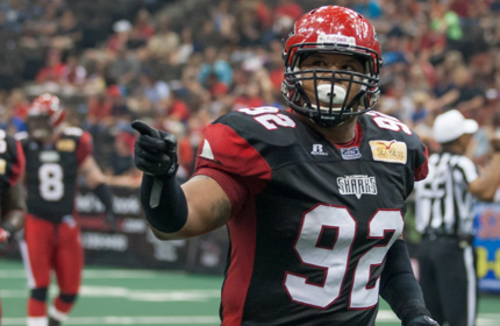 07/27/2012 8:09 AM
-
JACKSONVILLE
– For the third time in as many seasons, the ArenaBowl XXIV Champion Jacksonville Sharks ended the Arena Football League regular season on top of the South Division, meaning that playoff football will once again come to Sea Best Field. The defending champions will begin their playoff run against the division rival Georgia Force in a game that kicks off at 7:00 p.m. on Saturday, July 28 at the Jacksonville Veterans Memorial Arena.
In taking down the Pittsburgh Power by a 64-39 score last Friday night, the Sharks wrapped up their third straight ten-win season – no small feat when considering that the South Division has now produced three playoff teams in each of Jacksonville's three seasons as a franchise. Riding a three-game winning streak, the team will now turn its focus to battling a Georgia team that had the upper hand in the squads' two regular-season matchups.
The Sharks put a bow on their ArenaBowl XXIV title back on March 24, raising the championship banner to the rafters prior to the home opener against the Force. But from that point forward, the Force owned the night, as Georgia walked away with a 69-41 victory – their first in four tries against the Jacksonville franchise.
Two and a half months later, the Sharks made the trip to The Arena at Gwinnett Center for an early-June rematch. In that game, Jacksonville took a 27-9 lead after LaRoche Jackson's second-quarter interception return for a touchdown, only to surrender the lead in the second half, eventually falling by a 56-39 count.
For Jackson and many of his teammates, those two losses have not been forgotten.
"They beat us the first game, I give them that game because they just straight-out beat us," Jackson said. "That second game, I just feel like we beat ourselves and lost focus in that game. But this game, it's playoff time."
Quarterback Bernard Morris comes into this game having played some of his best football of the season during the Sharks' current three-game winning streak. Morris has fired 17 touchdowns against just one interception over those contests, adding a rushing touchdown in each game as well. Last week, the quarterback needed just three quarters of action to match a career high with eight touchdown passes, a performance that earned Morris a selection as the AFL's Russell Athletic Offensive Player of the Week.
In addition, the game against Pittsburgh carried some extra meaning for Morris, who began the 2011 season as the Power's starting quarterback before returning to Jacksonville this season. With that said, Morris downplayed the personal aspect of that game.
"In the back of my head I wanted to beat those guys, but the mission was bigger than that," Morris said. "We needed to win to clinch the division, and that's exactly what we did. So now we're going to have to try to accomplish our main goal which is win a championship."
In last week's game, Morris got plenty of help from receiver Jeron Harvey, who matched a season high with four touchdown catches. With a career high of 13 receptions against the Power, Harvey finished the season with 101 – despite spending six weeks on injured reserve. The total makes Harvey the second player in franchise history with 100 or more catches in a single season.
The Shark defense has turned up the intensity of late, allowing less than 40 points in each of Jacksonville's last three games. All season, defensive lineman Scooter Berry and Mac linebacker Aaron Robbins have formed one of the most dominant pass-rushing duos in the league. At the season's most critical time, the two are playing some of their best football of 2012.
Over the last two weeks, Berry and Robbins have combined for five quarterback sacks, with each player recording at least one sack in each game. With a pair of sacks against Pittsburgh, Berry set a new franchise record and tied the all-time AFL rookie record with 13 sacks this season. When asked to reflect on that milestone, Berry was quick to share the credit.
"I didn't come into this year worrying about records, I just came out and played," Berry said. "I owe it all to my teammates, they helped me get there. It's my record, but I feel like we all earned it a little bit."
A consistent pass rush will be key this week in helping the Shark secondary deal with Georgia's dynamic one-two punch of receivers Larry Shipp and C.J. Johnson.
Should the Sharks emerge with a victory on Saturday night, the team would face either the New Orleans VooDoo or Philadelphia Soul, who match up in a game that will kick off at approximately the same time on Saturday. A Sharks-VooDoo conference championship game would be played in Jacksonville, while the Sharks would hit the road if they meet the top-seeded Soul.
About the Jacksonville Sharks
The Jacksonville Sharks are members of the Arena Football League (AFL). The ArenaBowl XXIV and back-back-to-back South Division Champions are presented by Sea Best Seafood and play all home games on Sea Best Field at the Jacksonville Veterans Memorial Arena. Season Tickets for the 2013 season are now available, two tickets as low as $185. To reserve your season tickets or for more information, please call (904) 621-0700. Follow the Sharks on facebook at facebook.com/jaxsharks and on Twitter @jaxsharks, as well as the Attack Dance Team at facebook.com/sharkattackdance.