News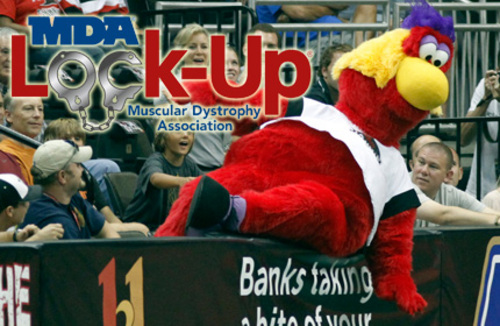 11/29/2012 8:20 AM
-
JACKSONVILLE – The 2012 South Division Champion Jacksonville Sharks announced Thursday that Chum, the team's Director of Excitement, will be participating in the Muscular Dystrophy Association's "Downtown Lock-Up" on December 13 at the Hyatt Regency Downtown Riverfront. The fundraiser will benefit those affected by neuromuscular disease in our local community.

For the event, Chum has a $4,000 "bail" to be funded by donations to MDA. Once that goal is reached, Chum will be released from lock-up on good behavior. Donations may be made by mail, by phone, online or in person.

As a guideline, MDA has provided a number of benchmarks to indicate the potential impact of a donation. For example, a $70 donation funds one minute of muscular dystrophy research, a $150 donation funds one physical therapy session and a $500 donation provides maintenance on a wheelchair or other medical equipment. These benchmarks are simply a guideline – those wishing to participate may donate any amount.

To donate by mail, send a check to MDA at 7077 Bonneval Rd. Suite 460, Jacksonville, FL, 32216. Please specify "Chum" on the memo portion of the check to ensure that the donation is counted toward Chum's bail. Donations may also be made over the phone via credit card by calling (904) 296-7434. Those who prefer to donate electronically may visit www2.mda.org/goto/chum to make a donation online.

Finally, donations may be made in person at the Hyatt Regency during the Lock-Up. The hotel is located at 225 East Coastline Dr. in Jacksonville.

To download a form that provides more information about MDA, the "Downtown Lock-Up" and how to donate, please click HERE.


About the Jacksonville Sharks

The Jacksonville Sharks are members of the Arena Football League (AFL). The ArenaBowl XXIV and back-to-back-to-back South Division Champions are presented by Sea Best Seafood and play all home games on Sea Best Field at the Jacksonville Veterans Memorial Arena. Season Tickets for the 2013 season are now available, two tickets as low as $185. To reserve your season tickets or for more information, please call (904) 621-0700. Follow the Sharks on facebook at facebook.com/jaxsharks and on Twitter @jaxsharks, as well as the Attack Dance Team at facebook.com/sharkattackdance and Chum at facebook.com/chumsharks.