News
01/24/2013 2:50 PM
-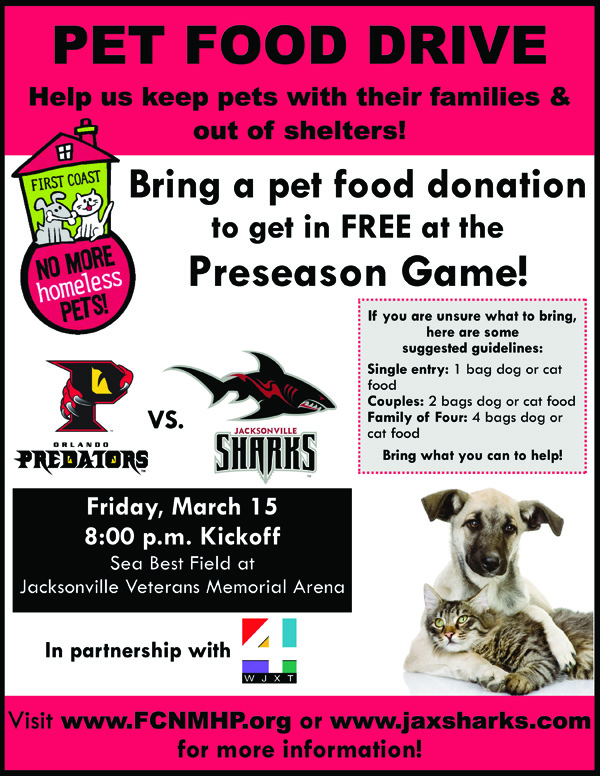 JACKSONVILLE – The 2012 South Division Champion Jacksonville Sharks announced Thursday that the team will hold a free preseason benefit scrimmage for a third consecutive year. This season, the Sharks will host the division rival Orlando Predators for a game that kicks off at 8:00 p.m. Friday, March 15, on Sea Best Field at the Jacksonville Veterans Memorial Arena.

Parking will be FREE in all SURFACE lots near the arena. Please note that this does NOT apply to parking garages. Free parking is available for SURFACE lots ONLY.

The event will also serve as the first opportunity for 2013 season ticket holders to pick up their tickets for the upcoming season. Season ticket holders will be able to pick up their ticket packages beginning at 1:00 p.m. in the Duval Room within the arena. Season ticket holder gifts - including beach towels, tailgate chairs and key chains, will be distributed at a later date, and more specific information on pickup of these gifts will be included in the ticket packages.

For this game, the Sharks have partnered with First Coast No More Homeless Pets (FCNMHP), an organization that aims to eliminate the needless killing of dogs and cats in our local community through free and low-cost spay and neuter programs. The organization also operates the Jacksonville Pet Food Bank, providing qualified low-income families with the resources necessary to keep their pets healthy.

WJXT Channel 4 will serve as the media partner for this preseason event, utilizing their platform to raise awareness of FCNMHP's mission.

"We are very pleased to offer a free preseason event for a third straight year," Sharks Managing Partner Jeff Bouchy said. "This scrimmage will be an outstanding chance to give our great fans an early look at our 2013 team, while also providing an opportunity for our community to come together for a great cause. Through the generosity of our fans, we will make significant strides towards FCNMHP's goal of ending the needless killing of adoptable pets."

Admission to the preseason scrimmage is free of charge, however fans are asked to bring a donation of pet food that will be collected outside the arena on behalf of FCNMHP. Cash donations will also be accepted for fans wishing to contribute in that manner.

Currently, bags of dry pet food are FCNMHP's greatest need, though cans of wet food will also be accepted at this event. A full list of the FCNMHP "wish list" can be found online at http://www.fcnmhp.org/pdf/wish_list.pdf.

"Our goal is to keep pets with their families and out of shelters. There are dogs and cats going hungry in our community and this is one way to help," said Rick DuCharme, executive director of FCNMHP.

Held four weeks prior to the Sharks' home opener, the game will give fans a chance to get an early glimpse at the Sharks before the team embarks on its season-opening three-game road trip. The gates will open at 7:00 p.m. for the general public. Seating will be available on a first-come, first-serve basis, though season ticket holders who wish to sit in their usual seats may enter the arena beginning at 6:30 p.m.

The Sharks' preseason kickoff weekend will continue the following day, as Burrito Gallery is set to host a meet and greet with Sharks players, coaches and the Attack Dance Team. At this event, fans will have the opportunity to get to know the 2013 Sharks before the season begins. More specific details about the meet and greet will be announced in the coming days.


About First Coast No More Homeless Pets

The mission of FCNMHP is to end the needless killing of cats and dogs through sterilization. Several programs offering free or low-cost spay/neuter surgeries are available to First Coast residents. Since 2002, more than 130,000 dogs and cats have been sterilized and benefited from these programs. FCNMHP also mentors organizations across the country to help them start similar programs in their communities, saving even more animals nationwide. FCNMHP runs the Jacksonville Pet Food Bank to help keep pets with their families and out of shelters where they may be euthanized. More than 500,000 pounds of food have been given to pets in need since March 2010. Clinic Hotline: 904.425.0005 Website: www.fcnmhp.org


About the Jacksonville Sharks

The Jacksonville Sharks are members of the Arena Football League (AFL). The ArenaBowl XXIV and back-to-back-to-back South Division Champions are presented by Sea Best Seafood and play all home games on Sea Best Field at the Jacksonville Veterans Memorial Arena. Season Tickets for the 2013 season are now available, two tickets as low as $185. To reserve your season tickets or for more information, please call (904) 621-0700. Follow the Sharks on facebook at facebook.com/jaxsharks and on Twitter @jaxsharks, as well as the Attack Dance Team at facebook.com/sharkattackdance and Chum at facebook.com/chumsharks.