News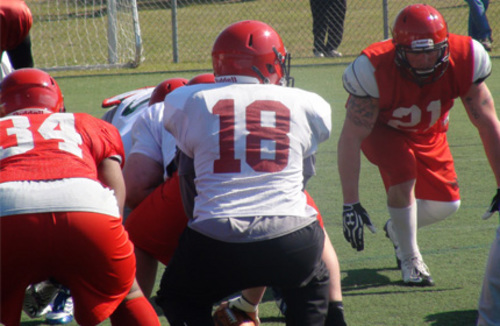 03/08/2013 5:40 PM
-
JACKSONVILLE – The 2012 South Division Champion Jacksonville Sharks continued 2013 training camp with a full-contact practice at Plantation Park on Friday morning. The workout capped a stretch in which the team wore full pads four times in a five-day span.



Offensive and defensive players have now been going against each other for a full week of practice. Even though each player wears the same uniform, the friendly rivalry between the two sides of the ball was apparent on Friday, especially during the one-on-one portion of practice. 

At one point in the middle of the session, the Shark skill players took a break to watch the offensive and defensive lineman square off. As different groups of lineman lined up, Shark receivers and defensive backs loudly cheered on their offensive and defensive counterparts. The good-natured rooting built team unity in the midst of what has been an intense training camp.



Following one-on-ones and three-on-threes, the Sharks once again came together for a team session at the end of practice. After the team session, Friday's workout wrapped up with a conditioning drill, as head coach Les Moss emphasized the fact that players need to be prepared to play an entire game in the event of injury or other circumstances. With just 20 players active for every game, the Sharks know that they must be ready to withstand four full quarters.



After the physical toll of the last five days, the upcoming weekend will serve as a great chance for Shark players to rest their bodies and get proper treatment. The team will hold a lighter, helmets-only practice on Saturday before Sunday's off day, which will be the Sharks' first full day of rest in over a week.




Roster Moves



The Sharks added depth along the defensive line on Friday, announcing that Delvin Johnson has been assigned to the team's roster on a one-year rookie contract. The 23-year-old Johnson (6'3", 320) brings NFL experience to Jacksonville, signing undrafted free agent by the NFL's Washington Redskins in May of 2012. Waived by Washington before the end of NFL training camp, Johnson later spent several weeks as a member of the Redskins' practice squad during the 2012 season.



Marshall spent his collegiate career at Marshall University, sharing an alma mater with Shark quarterback Bernard Morris. As a senior in 2011, Johnson started 12 of the Thundering Herd's 13 games and finished third on the team with 10.5 tackles for loss. He also totaled 42 tackles, two sacks, one fumble recovery and seven quarterback hurries.

In other Friday transactions, the Sharks announced that wide receiver Dorian Graham, wide receiver D.J. Hall, defensive lineman Donte'e Nicholls and defensive lineman Malcolm Riley have been placed on reassignment. Additionally, Mac linebacker Aaron Robbins and defensive back Micheaux Robinson were placed on the physically unable to perform list.




Player Spotlight

Quarterback R.J. Archer is new to the Sharks but no stranger to Sea Best Field, as he played each of the past two seasons with the Georgia Force and has three AFL seasons under his belt overall. In 2012, Archer served as the Force's starter before signing with the Detroit Lions during NFL minicamp. In 11 games with the Force, Archer completed 60% of his passes for 2,446 yards and 49 touchdowns against 12 interceptions.

Following Friday's practice, Archer shared his thoughts on getting acclimated with a new team.

"I feel pretty good, this is my third year doing it. A lot of the offenses are the same the different places I've been," he said. "Coach Moss always runs a great offense, so I'm just happy to be here and excited to get this thing rolling."

Part of Archer's adjustment to life as a Shark is working with an entirely new group of receivers. He spoke about the process of developing chemistry, and gave some insight on how the team's receiving corps is coming along.

"It's a little tough, but that's what the first few weeks of camp are for," he said. "Obviously the veteran receivers are doing a great job and they're showing these young guys the ropes a little bit. It's a lot for these young guys to get used to, but it's night and day from the first time we stepped on the field."




Up Next

The Sharks take the field for their eighth practice in as many days on Sunday morning at The Bolles School. The final workout before Sunday's day off, Saturday's practice starts at 8:30 a.m. and will be closed to the public.





About the Jacksonville Sharks

The Jacksonville Sharks are members of the Arena Football League (AFL). The ArenaBowl XXIV and back-to-back-to-back South Division Champions are presented by Sea Best Seafood and play all home games on Sea Best Field at the Jacksonville Veterans Memorial Arena. Season Tickets for the 2013 season are now available, two tickets as low as $185. To reserve your season tickets or for more information, please call (904) 621-0700. Follow the Sharks on facebook at facebook.com/jaxsharks and on Twitter @jaxsharks, as well as the Attack Dance Team at facebook.com/sharkattackdance and Chum at facebook.com/chumsharks.