News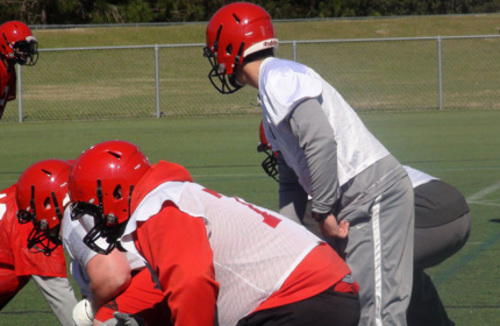 03/12/2013 6:02 AM
-
By Gabe Thompson

Last season, the Jacksonville Sharks went through three different quarterbacks before Bernard Morris emerged as the starter and led the team to a third straight division title. This year the Sharks made a point of bringing in solid players to compete for the job. Lee Chapple is one of three quarterbacks trying to make the Jacksonville Sharks roster, and as a rookie he's trying to win the job while adjusting to the nuances of the indoor game.

Thought new to Arena Football, Chapple is coming off a solid college career where he started at both Georgia Southern and North Alabama. He totaled over 3,000 yards in his last two seasons with North Alabama, and in his senior year he led his team to a 9-3 record, completed 65% of his passes and had 24 touchdowns with only 12 picks.

"I base my game a lot around my accuracy," Chapple said, "It's one of the most underrated things that a quarterback has to have. Everybody talks about arm strength, but playing in this game it's about pinpoint accuracy. The windows become tighter and ball placement is very key."

Chapple has to compete against two veterans who were both successful last year as starters in R.J. Archer and Bernard Morris. Archer completed 60% of his passes, with 2,446 yards and 49 touchdowns and only 12 interceptions in 11 games with the Georgia Force. Morris only played in 11 games, as well, and his numbers were even better than Archer's. He completed 62.2% of his passes with 59 touchdowns and only 14 interceptions.

As a rookie he has to adjust to playing in the AFL, where the rules and the fields are different. Chapple said everything just happens so much faster on a field only 50 yards deep. "You don't have a lot of time to sit there and make progressive reads, you just gotta diagnose it pre-snap," Chapple said. "As the ball snaps you have to make split-second decisions."

Chapple proved he can play in college, but it's yet to be seen whether he will have success playing indoors. "I'm still getting used to how quick the game is," Chapple said. "I think I was picking it up a little bit better today than in the past couple of days.

"There's a lot of offense involved, so it's exciting for a quarterback, like myself," Chapple said. "It's very fast passed and a little bit different than the outdoor game. It's more exciting and everything is quicker."

The Sharks have a platoon of talent at wide receiver. With veterans like Jeron Harvey and newcomers like J.J. Hayes on the field, it should make Chapple's acclimation to the AFL a little bit easier. "We have some really good receivers here in camp," Chapple said. "It's fun when you get the ball out of your hands to these playmakers and you can just sit back and watch what they do."

Chapple is a native of Georgia, but said he loves it here in Jacksonville. "I was telling everyone back at home in Atlanta that it's a real nice place to come and work," Chapple said. "I went to the playoffs in three of the years that I started in college. So I've had some success, and I hope to continue that here in the arena game."


About the Jacksonville Sharks

The Jacksonville Sharks are members of the Arena Football League (AFL). The ArenaBowl XXIV and back-to-back-to-back South Division Champions are presented by Sea Best Seafood and play all home games on Sea Best Field at the Jacksonville Veterans Memorial Arena. Season Tickets for the 2013 season are now available, two tickets as low as $185. To reserve your season tickets or for more information, please call (904) 621-0700. Follow the Sharks on facebook at facebook.com/jaxsharks and on Twitter @jaxsharks, as well as the Attack Dance Team at facebook.com/sharkattackdance and Chum at facebook.com/chumsharks.