News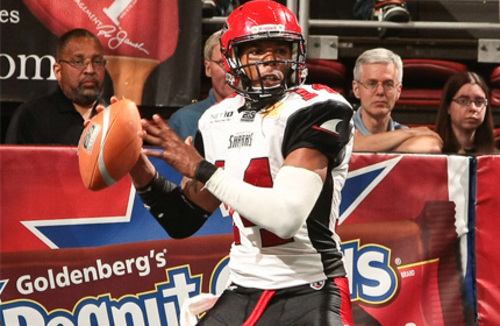 04/27/2013 9:19 PM
-
PHILADELPHIA – With his team clinging to a two-point lead in the final minute, Jacksonville Sharks' defensive back Terrance Smith knocked away a would-be game-tying pass, then recovered an onside kick to seal the Sharks' 55-53 win over the Philadelphia Soul at Wells Fargo Center on Saturday night.

Jacksonville (6-0) held a 55-47 lead with under a minute left, before Philadelphia (2-3) fullback Derrick Ross shook off several defenders to bring his team within two with a short rushing touchdown on fourth and goal with 18 seconds left. After a delay of game penalty moved Philadelphia back, Soul quarterback Dan Raudabaugh looked for Larry Brackins in the corner of the end zone on the two-point conversion attempt. Smith stayed with the six-foot-five Brackins and tipped the pass away, keeping the Sharks in front. On the next play, Smith tracked down Carlos Martinez' onside kick attempt, allowing the Sharks to retain possession and run out the clock. With the win, the Sharks remained perfect in 2013, extending what has become by far the team's best start to a season in franchise history.

The dramatic finish ended what was actually a two-score game for much of the second half. On the possession before Ross' late touchdown, Jacksonville had the ball with a chance to seal the game, but the Soul defense held and forced a field goal attempt. Marco Capozzoli's kick missed wide right, and Philadelphia returner Rayshaun Kizer returned the free ball past midfield to give the Soul another chance.

Jacksonville led almost wire-to-wire, taking the lead for good after Philadelphia scored the game's first touchdown. Morris tied a career high with eight touchdown passes, connecting on 17 of his 26 passes for 219 yards and eight touchdowns. Jeron Harvey scored a touchdown on each of his five catches, setting a new career high with those five touchdown grabs. At one point in the second half, Harvey caught a touchdown pass on four consecutive Jacksonville possessions.

The Sharks received the game's opening kickoff but started slow, going four and out on the game's first possession. Philadelphia took over and scored first, as Ross plunged in from two yards out for the first score of the evening. But on the ensuing possession, Morris' pump fake allowed Markee White to slip past his man and glide under a 30-yard touchdown pass that put the Sharks ahead, 7-6.


On the Soul's next drive, Tracy Belton generated the game's first turnover with an outstanding hustle play. After Raudabaugh completed a pass to Alvance Robinson, Belton stripped the football, collected the fumble himself and returned it for 13 yards to improve the Sharks' field position. A few plays later, Morris went deep again, this time looking for Jeff Hughley who made an impressive catch up against the wall in the corner of the end zone. The 29-yard touchdown gave the Sharks a 14-6 lead.


The teams then traded touchdowns, as Andrae Thurman collected a touchdown pass from Raudabaugh and then Harvey hauled in an 18-yard pass from Morris with a sliding catch in the end zone, putting Jacksonville ahead by a 21-12 count. Belton stepped up again on Philadelphia's next drive, knocking away a fourth down pass in much the same way as he did to seal the Sharks' Week 5 win over the Iowa Barnstormers. The Sharks took over deep in Philadelphia territory, and the Jacksonville offense converted in short order with a three-yard pass from Morris to White.


Now trailing 28-12, Philadelphia closed the first half with back-to-back scores. After Derrick Ross broke through the line and trotted in for a 16-yard rushing touchdown, Soul Jack linebacker Joe Goosby gathered an interception off a ball deflected by a fellow Soul defender. On fourth and goal in the final minute of the half, Brackins outmuscled Smith for a three-yard touchdown catch, cutting the Sharks' lead to 28-26 at the break.

On the first play of the second half, Belton swung momentum with his second forced fumble of the game. This time, Belton knocked it loose from the grip of Tiger Jones, and Smith pounced on the loose ball. The ensuing drive ended with an outstanding catch by Harvey, who made a one-handed grab on a three-yard pass from Morris despite defensive pass interference being committed on the play. Harvey's score gave the Sharks a 35-26 lead.


After Jones finished a Soul drive with a short rushing touchdown, Harvey delivered again with his third score of the game, this time on a 10-yard pass from Morris that put the Sharks up 42-33 late in the third.


The Sharks' front four finally broke through against Philadelphia's pass protection unit late in the third, as Aaron Robbins brought down Raudabaugh to end the quarter. The reigning First Team All-Arena Mac linebacker, Robbins extended his streak to five consecutive games with a sack. A few plays later, Belton's tight coverage forced an incompletion on fourth down, allowing the Sharks to take over on downs with a nine-point edge.

Harvey followed that defensive stop with his third touchdown in as many drives, breaking free on a second-down play from near midfield. Morris hit his wide-open receiver, as Harvey's fourth touchdown catch of the game extended Jacksonville's advantage to 48-33 with just under ten minutes remaining.

Though Philadelphia responded with a quick touchdown, Harvey delivered yet again on the Sharks' next drive. Harvey out-jumped two Philadelphia defenders to bring down his career-high fifth touchdown of the game, putting the Sharks back up by two scores, 55-40. Thurman answered with a touchdown to pull the Soul within eight points, setting up the dramatic finish in the final minutes.

As Harvey led the Sharks with his five touchdowns, White chipped in with five catches for 65 yards and two scores of his own. Though he scored just one touchdown, Hughley led Jacksonville with seven receptions for 98 yards, adding 96 kick return yards for a game-high total of 194 all-purpose yards. Morris gained 45 yards on eight rushing attempts.

Defensively, Smith led the team with 7.5 total tackles (seven solo) and his fumble recovery, while Belton had a tremendous all-around game, totaling seven tackles (six solo), two pass breakups, two forced fumbles and a fumble recovery. Robbins totaled two tackles for loss to go along with his sack, and Jerry Turner blocked an extra point.

For Philadelphia, Raudabaugh went 24-for-37 for 312 yards and four touchdowns. Ross scored three rushing touchdowns on his 13 carries, totaling 38 yards on the ground. Tiger Jones led all players with nine catches for 148 yards, but was kept out of the end zone by the Jacksonville defense. Thurman and Brackins each caught a pair of touchdown passes for the Soul.

Jacksonville returns home to put its perfect record on the line next week against the defending ArenaBowl champion Arizona Rattlers on Saturday, May 4. Kickoff on Sea Best Field at the Jacksonville Veterans Memorial Arena is set for 7:00 p.m.



Score By Quarters

Team 1st 2nd 3rd 4th OT Total
Jacksonville 14 14 14 13 - 55

Philadelphia 12 14 7 20 - 53



Media Awards

Russell Athletic Offensive Player of the Game – Jacksonville WR Jeron Harvey

Riddell Defensive Player of the Game – Jacksonville DB Tracy Belton

J. Lewis Small Playmaker of the Game – Jacksonville WR/KR Jeff Hughley

Cutters Catch of the Game – Jacksonville WR Jeron Harvey's 23-yard touchdown catch in the fourth quarter

AFL Highlight of the Game – Philadelphia FB Derrick Ross' two-yard touchdown run with 18 seconds remaining in the fourth quarter.


About the Jacksonville Sharks

The Jacksonville Sharks are members of the Arena Football League (AFL). The ArenaBowl XXIV and back-to-back-to-back South Division Champions are presented by Sea Best Seafood and play all home games on Sea Best Field at the Jacksonville Veterans Memorial Arena. Season Tickets for the 2013 season are now available, two tickets as low as $153. To reserve your season tickets or for more information, please call (904) 621-0700. Follow the Sharks on facebook at facebook.com/jaxsharks and on Twitter @jaxsharks, as well as the Attack Dance Team at facebook.com/sharkattackdance and Chum at facebook.com/chumsharks.