News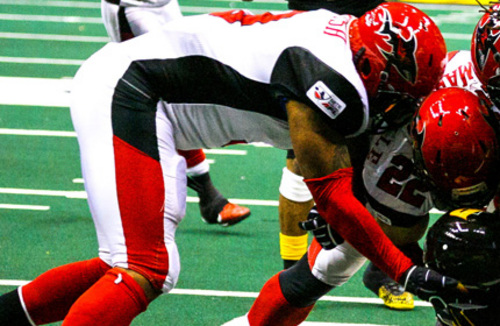 05/20/2013 2:00 PM
-
By Gabe Thompson

Jacksonville Sharks defensive lineman Justin Parrish has a tattoo that covers the entire length of his gigantic left forearm, an image of the 2011 ArenaBowl Championship trophy. It reminds him that he he helped earn the first title in Sharks franchise history.

Among those on this year's Shark squad, Parrish is one of many players with championship experience. The team has several returners from that title team, plus newcomers like receiver Markee White who have won rings elsewhere.

"Most of this year's team is filled with veterans," Parrish said. "Most of us come from championship caliber teams, so we encourage each other and help each other out, whether it's a certain type of move or technique. We've got each other's back."

Parrish played last season in Pittsburgh but decided to return to play in Jacksonville in 2013. "After last season things didn't really go that well in Pittsburgh," he said. "I realized that I missed playing here for this great organization and this great city. So I reached out to Coach Moss and he welcomed me back to the team.

"Last season I went up there to try to switch some things up and potentially put the cleats down," Parrish said. "Things weren't working out so well financially for me, and I got a chance to play somewhere closer to home. so I played in Pittsburgh, which is closer to my hometown."

Parrish emphasized that his decision to play for the Power had nothing to do with his experience in Jacksonville, but was a personal choice to be closer to his home state of Maryland.

"Me leaving didn't have anything negative to do with the Sharks," Parrish said. "It was just more of a personal thing where I was trying to move forward into another chapter of my life and trying to better myself career wise. Football is not something that's going to be around for me too much longer. You get older and your body starts to wear down, and you're not as fast or as strong, so you've got to have a backup plan."

Parrish is currently striving to make a career for himself in law enforcement. "My degree is in criminal justice, and I've done private security work, and I worked security in the school system. There are a lot of avenues for work in that field, so I just got to keep knocking at doors and try to get in there," he said.

Parrish said his favorite thing about football is all of the opportunities it's given him. "I get to travel and meet people and learn a lot of things," he said. "Because I've been able to travel, meet people and learn a lot of things I'm not sheltered by the environment that I came up in."

The Arena Football League season can be a grind for any player, with 18 regular-season games in a 19-week span. Counting training camp, the Sharks will work for over four months before the team's bye week in early July. It would be easy for a player to get worn down by that workload. But that's not the case for Parrish, who enjoys getting after it at every single practice.

"Going to practice is fun for me," Parrish said. "The one talent that God gave me was the ability to play football. It doesn't take much for me to get up to come to practice because it's something that I love to do. I get better in practice and come game time I'm just really comfortable."

Parrish has played football since he was five years old. "Most people who love their jobs are happier to go to work, so it's easier for them because they love doing it."

Only 20 players are allowed to suit up from each team for every game in arena football, so it helps to be able to play multiple positions. "Being able to play another position adds to your value as a player, especially with arena ball," Parrish said.

In that respect, Parrish has been called upon several times this year to fill in at fullback, and he notched a rushing touchdown two weeks ago in San Antonio. Parrish said that he is always willing to play any role the team needs.

"Coach called on me to step up to help the team because our starting fullback was banged up. It's nothing to me. If they need me, they can call on me to deliver," he said. "My teammates help me to get the right protection or whatever it is I need to do to get comfortable at the position."

Having Parrish and his determination back in Jacksonville has been a big boost to the Sharks this season. Parrish has chipped in with two sacks and a fumble recovery, and there is no doubt that his championship experience will pay dividends as the season rolls on.