News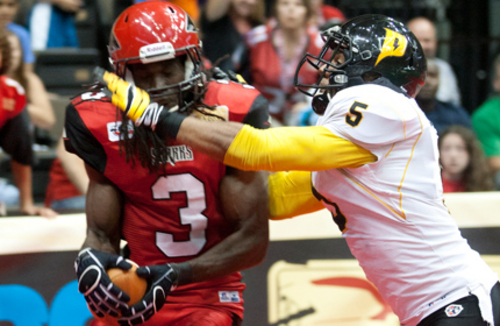 06/01/2013 10:12 PM
-
JACKSONVILLE – The 2012 South Division Champion Jacksonville Sharks (8-3) forced four turnovers and racked up 42 second-half points on Saturday night, leading to a 70-48 victory over the Pittsburgh Power (3-7) in front of 8,568 on Sea Best Field at the Jacksonville Veterans Memorial Arena.

The Sharks' second straight win allowed the team to retain sole possession of first place in both the South Division and the American Conference. Jacksonville led 28-20 at halftime, at which point the Shark defense stepped up with several big plays to put Pittsburgh away for good.

On the first drive of the third quarter, the Power moved into the red zone with a chance to tie the game. But on fourth and goal from the four, Shark Mac linebacker Aaron Robbins knocked down Steven Sheffield's pass at the line of scrimmage, forcing a turnover on downs. Pittsburgh's next possession started with a first-down throw, but on the next snap, Tracy Belton stepped up and knocked the ball out of the hands of Power receiver Julian Talley, forcing a fumble that was recovered by the Sharks' Derrick Summers. A few plays later, fullback Rendrick Taylor scored from four yards out to stretch the lead to 35-20.

On their next drive, the Power again picked up a first down before turning it over, as Terrance Smith stepped in front of a Pittsburgh receiver to pull in his sixth interception of the season. Taylor finished a second straight drive with a touchdown run, this time taking it around the left side from two yards out as Jacksonville took a three-score lead.

Though Pittsburgh's offense came up with 28 points in the fourth quarter, the Sharks had an answer for every Power score. Smith corralled another interception to extend his team-high total to seven, and the Sharks recovered all three of Pittsburgh's onside kick attempts. For their part, the Shark offense put up 28 points of their own in the fourth, as Jacksonville hit the 70-point mark for the second time this season.

The fourth quarter began with a highlight reel play. Starting at his own five yard line, Morris pump faked to freeze the Pittsburgh defense, then stepped up and delivered a perfect pass to a wide-open Josh Philpart for a 45-yard catch-and run. Morris then connected with Jeron Harvey on two fourth-quarter touchdown passes, as Harvey finished the game with four scores. Matt Marcorelle scored on a one-yard rush to cap the Jacksonville scoring.

Morris finished the game 18 of 34 for 249 yards, five touchdowns and one interception. He also led all players with six rushes for 36 yards and a first-quarter touchdown. Taylor carried the ball eight times for 18 yards and his two scores.

Harvey led the Shark offense with eight catches for 122 yards and four touchdowns. None of those eight catches stood out more than his second score, which came on the Sharks' final drive of the first half. Under pressure, Morris threw a pass over Harvey's head and off the iron, at which point Harvey's lightning-quick reflexes came into play as he hauled in the pass just before it hit the ground. It was Harvey's second off-the-net touchdown this season.

Philpart ended the game as the Sharks' second-leading receiver, totaling four catches for 76 yards and a score. Jeff Hughley added three catches for 35 yards and scored a rushing touchdown, while Markee White chipped in with three grabs for 16 yards.

On defense, Belton led the Sharks with 8.5 total tackles (seven solo) and a forced fumble. Jamaal Fudge forced a fumble as well, while Smith totaled 3.5 tackles and his two interceptions. In the first half, Marcorelle brought down Sheffield for the Sharks' league-leading 30th sack of the season. Defensive lineman Jerry Turner added a tackle for loss.

Though he was not called on for a field goal attempt nor an onside kick, Marco Capozzoli nailed all 10 of his extra-point attempts on Saturday.

For Pittsburgh, Sheffield went 24-of-30 for 235 yards, six touchdowns and two picks. Talley led all players with 12 catches, totaling 117 yards and 12 touchdowns. Mike Washington pulled in six receptions for 76 yards and two scores. On defense, Sergio Gilliam led all players with 9 total tackles (seven solo) and added three pass breakups. Darius Powell racked up Pittsburgh's lone sack, while Brandon Freeman led all players with four pass breakups.

The Sharks will take their two-game winning streak to the Pacific Northwest next weekend, as the team travels to take on the Spokane Shock next Saturday night. Kickoff is set for 10:00 p.m.


Media Awards

Russell Athletic Offensive Player of the Game – Jacksonville WR Jeron Harvey

Riddell Defensive Player of the Game – Jacksonville DB Terrance Smith

J. Lewis Small Playmaker of the Game – Pittsburgh DB Chris LeFlore

Cutters Catch of the Game – Jacksonville WR Jeron Harvey's off-the-iron touchdown catch with six seconds left in the first half.

AFL Highlight of the Game – Jacksonville WR Josh Philpart's 45-yard touchdown catch in the fourth quarter.


About the Jacksonville Sharks



The Jacksonville Sharks are members of the Arena Football League (AFL). The ArenaBowl XXIV and back-to-back-to-back South Division Champions are presented by Sea Best Seafood and play all home games on Sea Best Field at the Jacksonville Veterans Memorial Arena. Season Tickets for the 2013 season are still available, two tickets as low as $105. To reserve your season tickets, or for more information, please call (904) 621-0700. Follow the Sharks on facebook at facebook.com/jaxsharks and on Twitter @jaxsharks, as well as the Attack Dance Team at facebook.com/sharkattackdance and Chum at facebook.com/chumsharks.


About the AFL

Since its inception in 1987, the Arena Football League has showcased its fast-paced and exciting game to millions of fans in a myriad of markets across the country. CBS Sports Network will broadcast an AFL National Game of the Week on Saturday nights for the entire regular season and postseason through the semifinal round. The ArenaBowl XXVI Championship Game will air on the CBS Television Network on August 17, 2013.