News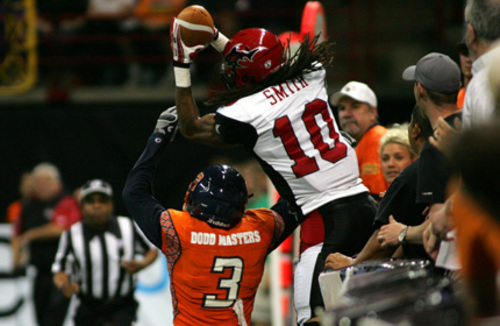 06/09/2013 1:00 AM
-
SPOKANE, WA – The Jacksonville Sharks (8-4) began their two-game West Division road trip with a tough loss on Saturday night. Three first-half turnovers led to an early deficit from which the team could not recover, as Jacksonville fell to the Spokane Shock (9-3) by a 76-41 count at Spokane Veterans Memorial Arena.

The loss snapped the Sharks' two-game winning streak, as Jacksonville fell to 1-4 in games against National Conference opponents this season. But Jacksonville was able to retain sole possession of first place in both the South Division and American Conference thanks to the Tampa Bay Storm's Saturday loss to the Orlando Predators.

Going up against the league's second-leading scoring offense, the Sharks needed an efficient start on offense in order to keep pace with a potent Spokane attack. But the team was unable to find a consistent rhythm in the first half. After the Shock scored a touchdown on the game's first possession, Shark quarterback Bernard Morris was intercepted by Ruschard Dodd-Masters to end Jacksonville's first drive. A few possessions later, Spokane defensive back Terrance Sanders stepped in front of Morris' throw, grabbed the pick and returned it 39 yards for a Spokane touchdown that gave the Shock a 28-7 lead at the end of the first quarter.

Trailing 35-14 early in the second, the Sharks had a chance to get back into the game when Jack linebacker Jamaal Fudge intercepted Spokane quarterback Erik Meyer. But on the ensuing drive, Morris fumbled while attempting to scramble outside of the pocket, and the Spokane defense recovered to negate Fudge's turnover. Jacksonville then turned it over on downs at its own five-yard line in the final minute of the first half, allowing Spokane to score a late touchdown and take a 49-14 lead at the break.

Though the Shark offense came out with a crisp touchdown drive at the start of the third quarter, the early deficit proved to be too much to overcome. Aside from Fudge's interception, the Shark defense was unable to generate another stop until midway through the fourth quarter, as Spokane scored a touchdown on nine of its first 10 offensive possessions. Jacksonville nearly doubled its first-half offensive output in the second half, but was ultimately not able to bring the game closer than 28 points at any point in the final two quarters.

For the Shark offense, Morris went 16 of 25 for 170 yards, two touchdowns and two interceptions. After scrambling for a short gain midway through the third quarter, Morris was slow to get up, limped off the field and did not return. In his stead, R.J. Archer fired a touchdown pass on his first drive and completed 12 of his 15 passes for 113 yards, two scores and an interception.

A bright spot in the loss was fullback Rendrick Taylor, who was a force around the goal line as he notched two rushing touchdowns for a second consecutive game. Taylor totaled 10 yards on three carries, while Morris led the team with 19 rushing yards on seven attempts.

At receiver, Jeron Harvey led Jacksonville with nine receptions for 123 yards and two scores, including a spectacular over-the-boards catch late in the third quarter. Harvey has now caught a touchdown pass in each of the Sharks' last eight games. Facing his former team, Markee White added eight catches for 72 yards, while Josh Philpart hauled in eight passes for 51 yards and a score. Terrance Smith came in at receiver on one first-half drive and caught a 20-yard pass, while offensive lineman Isaac Morales rolled out of the backfield for a five-yard touchdown reception in the fourth quarter.

On defense, Fudge continued to be one of the Sharks' top playmakers with an interception, a forced fumble and a fumble recovery. Fudge now leads the team with four fumble recoveries, is tied for the team lead with four forced fumbles, and has either forced or recovered a fumble in four of the Sharks' last five games. Terrance Smith and Micheaux Robinson led the Sharks with 3.5 total tackles apiece.

For Spokane, Meyer was efficient from the start, as the Shock signal-caller went 15-for-21 for 218 yards and six touchdown passes against one interception. Arvell Nelson saw action in the fourth quarter and completed all five of his pass attempts for a total of 55 yards and a score. Both Meyer and Nelson also picked up a rushing touchdown, while Brandon Thompkins also scored on the ground for the Shock.

Adron Tennell totaled eight catches for 84 yards and three receiving touchdowns, while Thompkins and Kamar Jorden each caught a pair of touchdown passes as well. On defense, Dodd-Masters led all players with 10 total tackles (nine solo) and also recorded an interception. Terrance Sanders snagged a pair of picks while also notching 4.5 total tackles.

Up next, the Sharks will head to Salt Lake City for a matchup against the Utah Blaze on Saturday, June 15. Next week's game is set to kick off at 9:00 p.m. ET and will air live on CBS Sports Network as part of the AFL's "Net10 Wireless Arena Football Saturday" series, while the Sharks' radio broadcast will air both on AM 600 WBOB and at wbobradio.com. Following the game in Utah, the Sharks will return to Sea Best Field to host the Cleveland Gladiators on Saturday, June 22.




Media Awards

Russell Athletic Offensive Player of the Game – Spokane QB Erik Meyer

Riddell Defensive Player of the Game – Spokane DB Terrance Sanders

J. Lewis Small Playmaker of the Game – Spokane DB Terrance Sanders

Cutters Catch of the Game – Jacksonville WR Jeron Harvey's 23-yard, over-the-boards touchdown catch in the third quarter

AFL Highlight of the Game – Spokane DB Terrance Sanders' 39-yard interception return for a touchdown in the first quarter


About the Jacksonville Sharks



The Jacksonville Sharks are members of the Arena Football League (AFL). The ArenaBowl XXIV and back-to-back-to-back South Division Champions are presented by Sea Best Seafood and play all home games on Sea Best Field at the Jacksonville Veterans Memorial Arena. Season Tickets for the 2013 season are still available, two tickets as low as $105. To reserve your season tickets, or for more information, please call (904) 621-0700. Follow the Sharks on facebook at facebook.com/jaxsharks and on Twitter @jaxsharks, as well as the Attack Dance Team at facebook.com/sharkattackdance and Chum at facebook.com/chumsharks.


About the AFL

Since its inception in 1987, the Arena Football League has showcased its fast-paced and exciting game to millions of fans in a myriad of markets across the country. CBS Sports Network will broadcast an AFL National Game of the Week on Saturday nights for the entire regular season and postseason through the semifinal round. The ArenaBowl XXVI Championship Game will air on the CBS Television Network on August 17, 2013.