News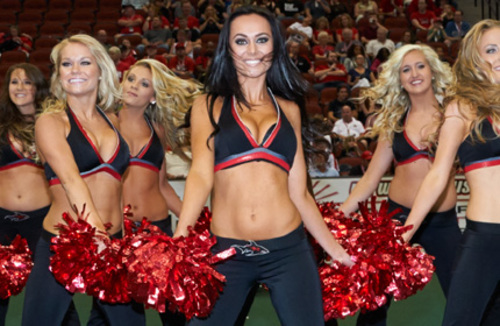 10/03/2013 2:18 PM
-
JACKSONVILLE – The final round of auditions for the 2013-14 Jacksonville Sharks Attack Dance Team will be held at Latitude 30 in Jacksonville on Saturday, October 5. The event will begin at 2:00 p.m. and will be open to the public.

After two previous rounds of auditions, a talented group of 23 dancers will compete for positions on the 2013-14 Attack squad. Finalists include several returning dancers from this past season's team, as well as a promising rookie class. At finals, each dancer will introduce themselves to the crowd before performing a series of athletic and dance routines for a panel of judges.

Athletes from First Class Athletics, the cheerleading gym owned and operated by Attack Dance Team Director Kimberly Mayo, will perform during breaks in action throughout Saturday's event.

After the final dancer completes her audition, the judges will gather and make their final decisions. The event will culminate with the revelation of the 2013-14 Attack, as the squad will be introduced as a group for the first time.

The panel of judges brings a variety of perspectives to Saturday's event. As of Thursday, those scheduled to serve as judges include:

• Kimberly Mayo, Attack Dance Team Director and Owner of First Class Athletics
• Laura Bouchy, Attack Dance Team Manager
• Nicole Glasgow, Attack Dance Team Assistant Director
• Terrance Smith, Jacksonville Sharks All-Arena Defensive Back
• Steven Frisch, Beaver Street Fisheries (Sea Best Seafood)
• Shannon Griggs, Bronzher Spray Tanning
• Paulina Perez, Makeup by Paulina Perez
• Charlton Williams, The HIT Center

Sharks' on-field personality "MC Wale" will emcee Saturday's event. Latitude 30 is offering the following drink specials to those in attendance:

• $2 off "Shark Blood" Sangria Bowls
• $2.50 Domestic Drafts
• Free Soft Drinks for children 12 and under


About Latitude 30

Located at 10370 Philips Highway, Latitude 30 is Jacksonville's premier restaurant and entertainment destination. Latitude 30 includes a game room with over 70 interactive video & redemption games, the Axis Bar with stage and dance floor, the 360 Grille, an upscale, casual contemporary-American dining restaurant. Guests can sit in our main dining area, at the 360 Bar, on our covered patio or at our pizza bar. After watching a movie or show, guests can head to our 20 state-of-the-art luxury bowling lanes to play a game, and enjoy a cocktail/culinary delight. You can also hang out at the heart of the venue, the Axis Bar and dance the night away to the best DJs and bands with room for over 1,000 guests.


About First Class Athletics

Our mission at First Class Athletics is to motivate and encourage athletes to become the best they can be! We pride ourselves in focusing on family, building positive self-esteem and putting each child's individual needs first! Under First Class Athletics enthusiasm and guidance, the students will learn the underlying essentials to achieve team and individual goals through dedication, motivation and genuine hard work! Not only do we develop GREAT athletes, but build GREAT character.


About the Jacksonville Sharks

The Jacksonville Sharks are members of the Arena Football League (AFL). The ArenaBowl XXIV and four-time South Division Champions are presented by Sea Best Seafood and play all home games on Sea Best Field at the Jacksonville Veterans Memorial Arena. Season Tickets for the 2014 season are now available, two tickets as low as $185. To reserve your season tickets or for more information, please call (904) 621-0700. Follow the Sharks on facebook at facebook.com/jaxsharks and on Twitter @jaxsharks, as well as the Attack Dance Team at facebook.com/sharkattackdance and Chum at facebook.com/chumsharks.


About the AFL

Since its inception in 1987, the Arena Football League has showcased a fast-paced and exciting game to millions of fans in a myriad of markets across the country. CBS Sports Network will broadcast an AFL National Game of the Week on Saturday nights for the entire season. The AFL schedule then culminates with the ArenaBowl Championship game pitting the American Conference Champions versus the National Conference Champions for the James F. Foster Trophy.