News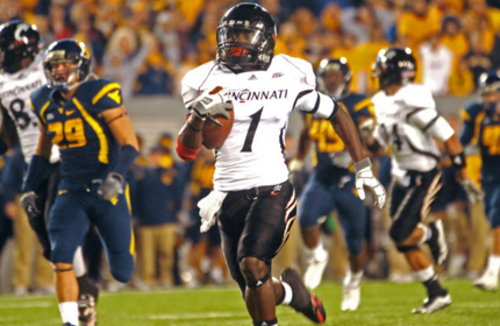 12/05/2013 10:24 AM
-
AFL Communications recently caught up with Jacksonville Sharks rookie wide receiver Mardy Gilyard for a new ArenaFootball.com segment called "Four Downs".

FIRST DOWN: How did you end up in the AFL with the Jacksonville Sharks?

Mardy Gilyard: The Arena Football League has always sparked my interest since I was a kid. This year's just been kind of an up-and-down year for me. I was in Kansas City and get hurt there. I went up to the CFL and tried to get acclimated but ended up being on a practice roster in Montreal. When my agent called, we started talking and it crossed my mind that Jacksonville is not too far from where I grew up. I remembered the Sharks were doing pretty well and they had a nice core of players. The city was ideal for me and they were excited to have me.

SECOND DOWN: How do you think you'll adjust to the AFL game with the Sharks?

MG: At the end of the day, it's football. There are a couple of nuances here and there, but it's football. I'm not just a "catch a hitch" type of guy. I've always been a highlight reel. I want to come in, work hard and fit in wherever they need me. If they want me to be a highlight reel, I can do that. If they need me to be a possession receiver, I can do that too. I don't want to step on anybody's toes. I just want to be a perfect teammate, a guy my quarterback can rely on and a guy that the team looks to when they need to make a play. I just want to play my role.

THIRD DOWN: What was it like having you and Dominick Goodman in the same receiving corps in college?

MG: It was hell on the defense! I switched from corner to receiver and Goody taught me everything I know. We're still good friends to this day. He taught me how to release. He taught me how to run routes. Once I learned the basics and put my own nuances on it, it was like, 'Okay, Goody – they can't cover both of us.' He was the best receiver we had until I broke his records. He's an excellent receiver. Watching him do his thing in the AFL, it's been nothing but smiles for my former teammate and roommate. He's a good guy.

FOURTH DOWN: Several of your former college teammates are in the AFL now. Have you stayed in touch with any of them?

MG: Nick Davila and Dominick Goodman have been the two people I've kept in contact with. Dominick and I see each other all the time. I haven't seen Nick in forever, but speaking with him back and forth on Twitter, he seems like he's in a happy place in Arizona. They're winning over there, he's the Q and he's always had a gorgeous ball. It's a blessing to be able to see those guys again, talk about the old days and talk a little smack. Life is good when you're playing football.