News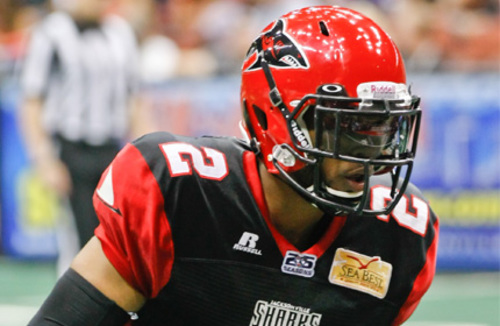 01/06/2014 6:00 PM
-
JACKSONVILLE – The 2013 South Division Champion Jacksonville Sharks announced the team's 2014 coaching staff on Monday. Joining head coach Les Moss, who returns for his fifth season at the helm of the franchise, will be Assistant Head Coach Brian Ferguson and Defensive Backs Coach Bill Alford.

Ferguson returns to the team for his fourth season on the Sharks' staff. This year, Ferguson has earned the title of Assistant Head Coach, and will continue his primary role working with the offensive and defensive lines.

"Brian has done a tremendous job for us over the last three years," Moss said. "After spending two years working with the defensive line, he was responsible for both lines this past season and handled those duties extremely well. He has become a very important part of our staff and we're glad to have him back as Assistant Head Coach."

While handling the added responsibility of the offensive line in 2013, Ferguson also produced what was arguably the best pass-rushing season in League history. Under Ferguson's tutelage, the Sharks established a new all-time AFL record with a total of 45 quarterback sacks in 2013. In his three years as a Shark assistant, Ferguson has developed a total of five All-Arena performers at either the defensive line or Mac linebacker spots. Two of those players, defensive linemen Derrick Summers and Scooter Berry, signed contracts with Canadian Football League teams in the year following their respective All-Arena campaigns.

Ferguson also helped the Sharks' other All-Arena pass rushers, Aaron Robbins and Jerry Turner, shatter their personal best single-season sack totals that they had each recorded with other franchises.

Prior to to his experience with the Sharks, Ferguson has previously spent time as an Assistant Strength Coach with both the Jacksonville Jaguars and Tampa Bay Buccaneers. Ferguson is a graduate of Northern Colorado University.

Alford is set to make the transition to coaching after spending the last four years as a fixture in the Sharks' secondary. One of just four players to suit up for the Sharks in each of the team's first four seasons as a franchise, Alford appeared in 56 regular-season games with Jacksonville, making 49 starts in those contests.

"We're very excited to work with Bill this season," Moss said. "He has always been one of the most knowledgeable players on our team, and I believe his ability will seamlessly translate to the coaching side of things. Obviously, he has plenty of experience with our players and working within our system, and we're glad to have him as part of our staff."

In Alford's Arena Football League playing career, he totaled 180 tackles (154) solo, 26 pass breakups, six interceptions, two forced fumbles and three fumble recoveries in regular-season action. Perhaps Alford's most memorable play as a Shark came in the 2011 American Conference Championship Game, as he pulled down an interception in the final minute to help send the Sharks to ArenaBowl XXIV. In addition to his work in the AFL, Alford spent two seasons playing in NFL Europe. The Vanderbilt product and Brunswick, Ga. native originally signed with the Baltimore Ravens as an undrafted free agent in 2005.

Jake Grande, who had served as the team's Defensive Coordinator for the past four seasons, has chosen to move on to a position as Defensive Backs Coach at Jacksonville University.




About the Jacksonville Sharks

The Jacksonville Sharks are members of the Arena Football League (AFL). The ArenaBowl XXIV and four-time South Division Champions are presented by Sea Best Seafood and play all home games on Sea Best Field at the Jacksonville Veterans Memorial Arena. Season Tickets for the 2014 season are now available, two tickets as low as $185. To reserve your season tickets or for more information, please call (904) 621-0700. Follow the Sharks on facebook at facebook.com/jaxsharks and on Twitter @jaxsharks, as well as the Attack Dance Team at facebook.com/sharkattackdance and Chum at facebook.com/chumsharks.


About the AFL

Since its inception in 1987, the Arena Football League has showcased a fast-paced and exciting game to millions of fans in a myriad of markets across the country. The ESPN family of networks and CBS Sports Network will nationally broadcast AFL games each week for the entire season. The AFL schedule then culminates with the ArenaBowl Championship game live on ESPN.