News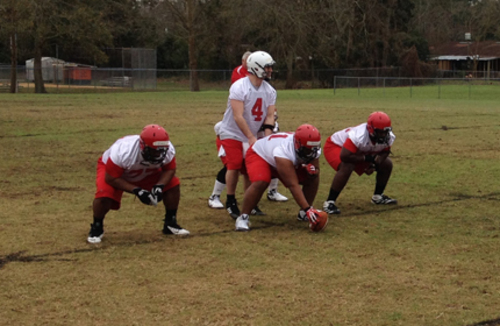 02/23/2014 5:00 PM
-
Orange Park, Fla. – The Jacksonville Sharks' 2014 training camp is in full swing, as the team held its second practice in as many days on Sunday morning at Orange Park Athletic Association. Sunday's workout was the team's second consecutive non-contact practice, allowing players the chance to get into the routine of camp before strapping on the shoulder pads.

Sunday's practice was a quick turnaround for players and coaches, as the team had wrapped up its opening practice of camp as the sun set on Saturday evening. Despite the short recovery time, Sunday's workout was a spirited practice that featured plenty of competition during the one-on-one and team sessions.

As is often the case during training camp, a bit of a rivalry has formed between the Sharks' wide receivers and defensive backs. Each side of the ball features a strong group of veterans that have taken it upon themselves to lead the team's promising crop of young talent. In particular, All-Arena returners Jeron Harvey and Terrance Smith were vocal in motivating their respective sides of the ball during the competitive portions of practice.

After two days of camp, there is a noticeable eagerness to start hitting. That is especially true in the trenches, where the team's offensive and defensive linemen are ready to test themselves in contact situations.

"Yeah, I think they're ready to go. That's how training camp always is, especially for the guys up front," quarterback R.J. Archer said. "The linemen, they're kind of champing at the bit a little bit to start banging their heads together. Tomorrow, they'll get to throw the shoulder pads on and show a little bit of what they can do."


Player Spotlight

Defensive back Micheaux Robinson is one of the longest-tenured Sharks, as he is one of two players on track to suit up in Jacksonville for a fifth consecutive season. With 123 pass breakups and 29 interceptions to his name, Robinson has excelled during his AFL career.

Robinson is one of three returning veterans in the Sharks' secondary, joining Terrance Smith and Tracy Belton in that capacity. With five years of AFL experience to his name, the 30-year-old Robinson is no stranger to serving as a team leader, a role that he embraces.

"It's using our knowledge and experience as Sharks players, and just keeping [the rookies] confident, just keeping them working hard each day," Robinson said. "Coach doesn't want to see people making the same mistakes, so it's up to us as veterans on the team to help coach them up a little bit, give them some insight from what we see on the field."


Up Next

The Sharks are set to return to the practice field on Monday morning for the first contact workout of training camp. Monday's practice will be held at Orange Park Athletic Association and is scheduled to start at 8:30 a.m., weather permitting.


About the Jacksonville Sharks

The Jacksonville Sharks are members of the Arena Football League (AFL). The ArenaBowl XXIV and four-time South Division Champions are presented by Sea Best Seafood and play all home games on Sea Best Field at the Jacksonville Veterans Memorial Arena. Season Tickets for the 2014 season are now available, two tickets for as low as $185. To purchase your season tickets or for more information, please call (904) 621-0700. Follow the Sharks on facebook at facebook.com/jaxsharks and on Twitter @jaxsharks, as well as the Attack Dance Team at facebook.com/sharkattackdance and Chum at facebook.com/chumsharks.


About the AFL

Since its inception in 1987, the Arena Football League has showcased a fast-paced and exciting game to millions of fans in a myriad of markets across the country. The ESPN family of networks and CBS Sports Network will nationally broadcast AFL games each week for the entire season. The AFL schedule then culminates with the ArenaBowl Championship game live on ESPN.