News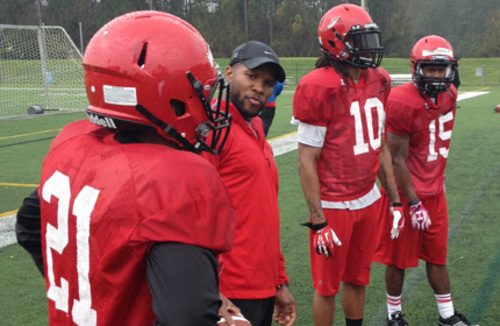 02/26/2014 5:17 PM
-
ST JOHNS, Fla. – The Jacksonville Sharks held their second consecutive full-contact workout on Wednesday morning, as the team once again practiced at Plantation Park. Dealing with rainy conditions, the Sharks battled the elements to get their necessary work in, as the team continues to prepare for Sunday's preseason scrimmage and the season as a whole.

During the one-on-one portion of practice, coaches tested some of the team's young defensive backs with a rapid-fire sequence of consecutive reps, designed to work on conditioning while also emphasizing the need for a "short memory" at the position. Meanwhile, the team's offensive and defensive lineman continued to grind it out in the trenches, working on technique drills before matching up in one-on-one and four-on-four scenarios.

The team portion of practice was again the most intense of the workout, especially in short-yardage situations when space is always at a premium. On one particular play, rookie receiver Mardy Gilyard charged in to seal off a defensive back and spring a touchdown run to the outside. But just as often as the offense scored, the defense was there to make the stop, a sign that each unit is pushing the other to improve.

Working through a rainy practice should serve to make players that much more comfortable in the perfect conditions of arena football. But with that said, players will no doubt be glad to see sunny skies in the forecast over the next several days.


Player Spotlight

Terrance Smith may be the most versatile player on the Sharks' roster. In his three previous seasons in Jacksonville, Smith has seen significant action at defensive back, at wide receiver and as a kick returner. In 2013, Smith captured his first All-Arena honor, as he was selected to the First Team after setting a new franchise record with 12 interceptions to go along with 74.5 total tackles, 12 pass breakups and four fumble recoveries.

Heading into his fourth AFL season – all with Jacksonville – Smith is excited to be back on the field for training camp.

"It's been fun. We've got a lot of new faces, and it's good to get our chemistry back. It feels good to be playing football again," Smith said. "Guys are stepping up and doing what we need them to do, leaders are being leaders, coaches are being coaches and everyone's following suit."


Up Next

The Sharks are scheduled to return to the practice field on Thursday morning. Thursday's practice will be held at Plantation Park, located at 3060 Race Track Rd. in St Johns. Practice is scheduled to start at 9:30 a.m.


About the Jacksonville Sharks

The Jacksonville Sharks are members of the Arena Football League (AFL). The ArenaBowl XXIV and four-time South Division Champions are presented by Sea Best Seafood and play all home games on Sea Best Field at the Jacksonville Veterans Memorial Arena. Season Tickets for the 2014 season are now available, two tickets for as low as $185. To purchase your season tickets or for more information, please call (904) 621-0700. Follow the Sharks on facebook at facebook.com/jaxsharks and on Twitter @jaxsharks, as well as the Attack Dance Team at facebook.com/sharkattackdance and Chum at facebook.com/chumsharks.


About the AFL

Since its inception in 1987, the Arena Football League has showcased a fast-paced and exciting game to millions of fans in a myriad of markets across the country. The ESPN family of networks and CBS Sports Network will nationally broadcast AFL games each week for the entire season. The AFL schedule then culminates with the ArenaBowl Championship game live on ESPN.