News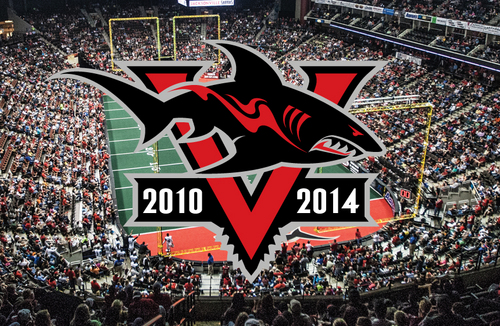 03/08/2014 5:10 PM
-
JACKSONVILLE – The four-time South Division Champion Jacksonville Sharks have concluded training camp, as the Sharks' coaching staff has submitted the team's initial 24-man lineup card for the 2014 season.

Jacksonville's initial roster is led by 15 veterans who return to the team after being part of the 2013 squad. Of those veterans, wide receiver Jeron Harvey and defensive back Micheaux Robinson are set to begin their fifth respective seasons with the franchise, while three players enter their fourth individual seasons in Jacksonville, and two other players are in their third year with the team.

Two of those returning veterans will man the quarterback position, as R.J. Archer (fourth season, second in Jacksonville) and Kyle Rowley (fifth season, second in Jacksonville) bring a combined seven years of AFL experience to the table.

Joining the 14 returning veterans are three other players with previous Arena Football League experience, as kicker Fabrizio Scaccia (fifth season), defensive lineman Darnell Carter (third season) and defensive lineman Reggie Paramoure (second season) are all set to make their Shark debuts.

Rounding out the roster is a crop of six talented rookies. These rookies are spread throughout the Sharks' lineup, as the team opens the season with one rookie wide receiver, one rookie fullback, two rookie offensive linemen and two rookie defensive backs. In addition to the six rookies on the active roster, two other rookies will begin the season on the Injured Reserve list.

The Sharks announced six transactions on Saturday. Defensive lineman Rashaad Duncan and fullback Jared McGriff-Culver were activated from Physically Unable to Perform. Wide receiver Tristan Purifoy and defensive lineman Thomas Mulabah were placed on Injured Reserve. Defensive lineman Derrick Jackson and defensive lineman Oren Wilson were placed on reassignment.

Jacksonville's initial 24-man roster is detailed below:


ACTIVE ROSTER

# Name Pos. Ht. Wt. Exp. School
1 Micheaux Robinson DB 5-9 185 5 Otterbein
2 London Crawford WR 6-3 205 1 Arkansas
3 Jeron Harvey WR 6-5 220 4 Houston
4 Kyle Rowley QB 6-0 195 4 Brown
5 Xavier Brewer DB 5-11 195 R Clemson
6 Tracy Belton DB 6-1 180 4 Massachusetts
7 Mardy Gilyard WR 6-1 200 R Cincinnati
8 Aaron Robbins MLB 6-3 275 4 Wyoming
9 Justin Parrish DL 6-2 255 4 Kent State
10 Terrance Smith DB 6-2 198 3 South Carolina St.
11 Fabrizio Scaccia K 6-1 205 4 N/A
12 R.J. Archer QB 6-2 220 3 William & Mary
20 Jared McGriff-Culver FB 6-2 270 R Missouri
21 Brodrick Brown DB 5-8 185 R Oklahoma State
22 Shamar Graves WR 6-3 235 2 Rutgers
31 R.J. Bibbs OL 6-2 315 1 Miles
44 Darnell Carter DL 6-3 255 2 Virginia
45 Rashaad Duncan DL 6-2 335 1 Pittsburgh
48 Brant Clouser OL 6-3 315 2 Villanova
56 Jerry Turner DL 6-3 265 7 Tennessee Tech
66 Cornelius Lewis OL 6-5 355 3 Tennessee State
74 Roderick Tomlin OL 6-5 310 R Murray State
78 Tori Mobley OL 6-3 310 R Jacksonville State
92 Reggie Paramoure DL 6-2 285 1 Maine


INJURED RESERVE

# Name Pos. Ht. Wt. Exp. School
19 Tristan Purifoy WR 6-0 200 R North Alabama
34 Thomas Mulabah DL 6-1 290 R California (PA)


About the Jacksonville Sharks

The Jacksonville Sharks are members of the Arena Football League (AFL). The ArenaBowl XXIV and four-time South Division Champions are presented by Sea Best Seafood and play all home games on Sea Best Field at the Jacksonville Veterans Memorial Arena. Season Tickets for the 2014 season are now available, two tickets for as low as $185. To purchase your season tickets or for more information, please call (904) 621-0700. Follow the Sharks on facebook at facebook.com/jaxsharks and on Twitter @jaxsharks, as well as the Attack Dance Team at facebook.com/sharkattackdance and Chum at facebook.com/chumsharks.


About the AFL

Since its inception in 1987, the Arena Football League has showcased a fast-paced and exciting game to millions of fans in a myriad of markets across the country. The ESPN family of networks and CBS Sports Network will nationally broadcast AFL games each week for the entire season. The AFL schedule then culminates with the ArenaBowl Championship game live on ESPN.