News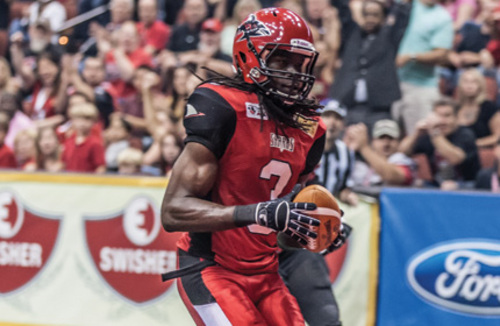 03/26/2014 7:38 AM
-
JACKSONVILLE – The Jacksonville Sharks (0-1) have returned from their first bye week of the 2014 season and will host the San Antonio Talons (0-2) in a Week 3 matchup on Saturday, March 29. Kickoff on Sea Best Field at the Jacksonville Veterans Memorial Arena is set for 7:00 p.m.

This is the first of two meetings between these squads in 2014, as the Sharks will make the trip out to San Antonio in Week 17. These two squads matched up once a year ago, as the Talons came away on top of a 34-30 result in the Alamodome in Week 8 of the 2013 season.

In some ways, the bye week served as a chance for the Sharks to reset themselves after a tough season-opening loss in Orlando in Week 1. In that game, Jacksonville fell behind two scores in the early stages of the first quarter and could not quite come all the way back. After fullback Jared McGriff-Culver scored on a short rushing touchdown with eight seconds left, R.J. Archer's would-be game-tying two-point pass fell incomplete, allowing the Predators to hold on in a 49-47 final.

For the Sharks, one key to getting back in the win column is for both the offense and defense to finish drives on a consistent basis. Though they did not lose a fumble or throw an interception, the Jacksonville offense turned the ball over on downs multiple times in Week 1, resulting in empty possessions. On the other side, while the Shark defense was largely stout on early downs, the team allowed four fourth-down conversions in five attempts. Locking down the Talons' offense on fourth down could be an easy way for Jacksonville to gain an early advantage.

When the Sharks have the ball, Archer will largely look to a talented trio of wide receivers. Jeron Harvey, London Crawford and Mardy Gilyard combined to pull down 26 of the team's 27 receptions in Week 1 and accounted for six total touchdowns. Harvey was the team's top red-zone target, picking up where he left off in his All-Arena 2013 season with a team-leading 11 receptions for 93 yards and three touchdowns. Crawford made his biggest impact as a deep threat, catching two passes of 40 or more yards en route to a six-catch, 128 yard, two-touchdown performance. Finally, in his first career arena football game, Gilyard racked up 172 all-purpose yards and found the end zone with a four-yard rushing touchdown. There is no doubt that the Sharks' talented trio of receivers will pose a challenge for the Talons' veteran secondary.

On defense, Jacksonville will need to establish an effective pass rush early and often. The Sharks' veteran group of front four was disruptive at times throughout the team's season opener, but Orlando quarterback Jason Boltus managed to escape without being sacked. Led by returning All-Arena performers Aaron Robbins and Jerry Turner, the Sharks' front four will be on a mission to bring down Talon signal callers Mitch Mustain and Marcus Jackson.

For their part, the Talons head into this week's game desperate for a win of their own. San Antonio opened the year with consecutive home losses to the Los Angeles KISS and Tampa Bay Storm. Each contest was a low-scoring affair, a style of game that has become commonplace for the Talons since the start of the 2013 season. If San Antonio is able to keep the game in the 40s, each Jacksonville possession becomes that much more critical.

On defense, the Sharks will need to key on playmaking receiver D.J. Stephens, who through two games has been San Antonio's most potent offensive weapon. Stephens has accounted for all but one of the Talons' six touchdown receptions, and his 225 receiving yards comprise exactly half of the team's total. Shutting down Stephens will go a long way toward getting Jacksonville the result it desires on Saturday.

Perhaps San Antonio's greatest strength lies in its defense, particularly in the secondary. Jack linebacker Jamar Ransom victimized the Sharks for two interceptions in the teams' meeting last season, and San Antonio has pulled down a total of six interceptions over the course of their first two games. Archer and the Jacksonville offense must be cognizant of the Talons' playmaking ability in this area of the game.

Tickets for Saturday's game are still available, and may be purchased by calling the Sharks Ticket Office at 904-621-0700.


About the Jacksonville Sharks

The Jacksonville Sharks are members of the Arena Football League (AFL). The ArenaBowl XXIV and four-time South Division Champions are presented by Sea Best Seafood and play all home games on Sea Best Field at the Jacksonville Veterans Memorial Arena. Season Tickets for the 2014 season are now available, two tickets as low as $185. To reserve your season tickets or for more information, please call (904) 621-0700. Follow the Sharks on facebook at facebook.com/jaxsharks and on Twitter @jaxsharks, as well as the Attack Dance Team at facebook.com/sharkattackdance and Chum at facebook.com/chumsharks.


About the AFL

Since its inception in 1987, the Arena Football League has showcased a fast-paced and exciting game to millions of fans in a myriad of markets across the country. The ESPN family of networks and CBS Sports Network will nationally broadcast AFL games each week for the entire season. The AFL schedule then culminates with the ArenaBowl Championship game live on ESPN.