News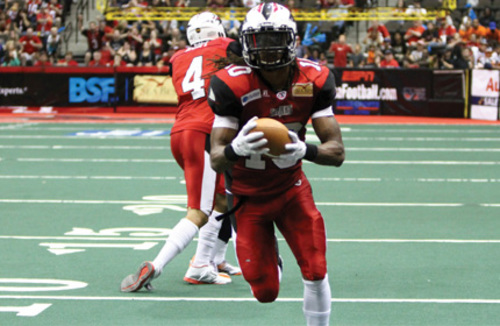 10/28/2014 10:31 AM
-
The 27-year-old Smith (6'2", 198) enters his fifth season with the Sharks, having spent his entire AFL career in Jacksonville. One of the League's most versatile players, Smith has continually excelled in a variety of roles on offense, defense and special teams.

In 2014, Smith primarily played defensive back, leading the Sharks with seven interceptions while adding 40.5 tackles (34 solo), 12 pass breakups and a forced fumble. Before his season was ultimately cut short due to injury, Smith also contributed at wide receiver, hauling in 14 receptions for 219 yards and six touchdowns. Five of those six touchdown catches came in Smith's final two appearances of the 2014 campaign.

Smith also primarily played defensive back in 2013, earning First-Team All-Arena honors at the position following his dominant performance. That season, Smith established a new single-season franchise record with 12 interceptions while adding 74.5 total tackles (61 solo), 12 pass breakups and four fumble recoveries in the process. Smith recorded four separate two-interception games in 2013, and has amassed a total of seven multi-pick games over the last two years.

Smith has tended to come up with some of his biggest plays in the game's most critical moments. Of the 19 interceptions that Smith has collected since the start of the 2013 season, eight have occurred in the fourth quarter. That includes a two-interception fourth quarter against the rival Orlando Predators in 2013, and a game-winning pick-six against the Spokane Shock this past season.

During the 2012 season, Smith spent most of his time at wide receiver, leading the team with 1,158 receiving yards and 29 touchdowns. He also excelled as the team's primary kick returner, collecting a total of 1,707 yards and three touchdowns on his 84 runbacks. Smith also stepped in on defense late in the season, recording an interception in each of the Sharks' final two regular-season games. Smith's overall contributions earned him a spot on the 2012 All-Ironman Team.

Smith first broke into the AFL with the Sharks in 2011, as he quickly stepped into a starting role on defense. As a rookie, Smith picked off six passes, recorded five pass breakups, recovered three fumbles and forced another. A native of Aiken, South Carolina, Smith spent his collegiate career at South Carolina State University.