News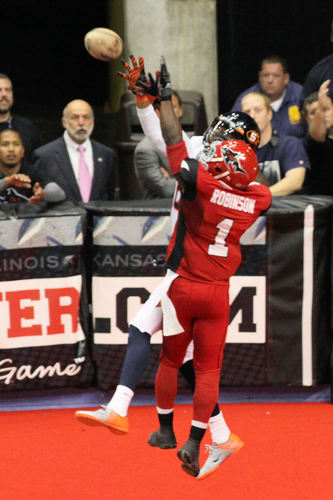 08/20/2010 3:00 PM
-
The Jacksonville Sharks and the Arena Football League announce Sharks' defensive back Micheaux Robinson was voted to the 2010 All-AFL team.
Robinson (5'9, 175) was voted to the All-AFL 2nd Team for the first time in his career. Robinson ended his second season in the AFL as one of the top defenders in the league. He was second in the league in passes broken up (23), fourth in interceptions (8) and in the top 20 in tackles per game (6). Robinson finished the season with 82 total tackles - 64 solo - which was second on the team to fellow defensive back Jason Perry.
"I'm thrilled I was able to represent the Sharks in any situations, especially as a member of the All-AFL Team," commented Robinson. "I thought I didn't have a chance being hurt a few weeks. There are so many quality DB's in this league. This award was only made possibly by the rest of the defense doing their thing, I just happened to get some of the glory."
Robinson joined the Sharks in 2009 as one of the first players to be assigned to the expansion franchise. Over the course of the season, he has proven "big things come in small packages." Starting every game he was active, Robinson leads the team in several statistical categories.
Robinson began his arena football career in 2007 with the Orlando Predators. In 2008, Robinson became a member of the af2 Wilkes-Barre Scranton Pioneers where he was awarded the Aarons af2 Defensive Player of the Year and led the league with 14 interceptions. Along with leading the league in interceptions, Robinson recorded 99.5 tackles which was second most by any player.
The Jacksonville Sharks are members of the Arena Football League (AFL). The reigning South Division Champions play all home games on Sea Best Field at the Jacksonville Veterans Memorial Arena. The Sharks return to action in March of 2011 for a sophomore season. Season tickets for the 2011 season are now available. To reserve your season tickets, group tickets, or for more information please call (904) 621-0700.