News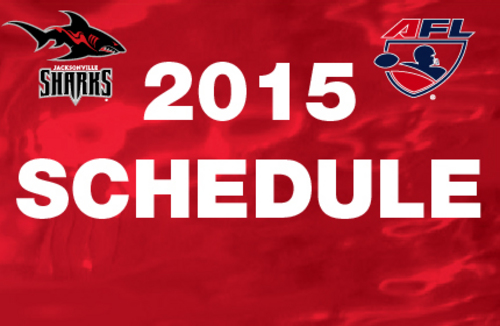 12/19/2014 11:18 AM
-
JACKSONVILLE – The Arena Football League and the Jacksonville Sharks announced the team's 2015 schedule on Friday. Jacksonville will begin the 2015 season on the road against the New Orleans VooDoo on Saturday, March 28. The Sharks' home opener is set for Saturday, April 4 against the Orlando Predators.

The Sharks' quest for a fifth South Division title includes three matchups against the Predators, VooDoo, Tampa Bay Storm and Philadelphia Soul. The Sharks will host the Predators and Soul twice during the 2015 season, while the team will make two trips to both Tampa Bay and New Orleans.

Shark fans will have the opportunity to see the AFL's newest franchise in action on Sea Best Field, as the Las Vegas Outlaws make their way to the Shark Tank in Week 5. The 2015 season will also mark Jacksonville's first-ever trips to Los Angeles and Portland, as the Sharks will travel to face the KISS in Week 10 and the Thunder in Week 16.
Jacksonville's 2015 slate also includes home-and-home matchups with the reigning American Conference Champion Cleveland Gladiators, which finished the 2014 regular season with the best record in the League.

Shark Fans will have plenty of chances to see their team at the season's most critical stage, as three of the team's final four regular season games will be played at home.

The AFL will once again utilize a 20-week, two-bye schedule. The Sharks will be idle in both Week 9 and Week 15.

Both the League's national television broadcast schedule and the Sharks' local television broadcast schedule will be announced at a later date.

Jacksonville's full 18-game schedule is listed below, though dates and times are subject to change. All times listed are Eastern.


Jacksonville Sharks 2015 Schedule

Week 1: at New Orleans (Saturday, March 28, 8:00 p.m.)
Week 2: vs. Orlando (Saturday, April 4, 7:00 p.m.)
Week 3: at Philadelphia (Sunday, April 12, 4:00 p.m.)
Week 4: vs. San Jose (Friday, April 17, 8:00 p.m.)
Week 5: vs. Las Vegas (Friday, April 24, 8:00 p.m.)
Week 6: at Tampa Bay (Saturday, May 2, 7:30 p.m.)
Week 7: at Cleveland (Friday, May 8, 7:00 p.m.)
Week 8: vs. Philadelphia (Saturday, May 16, 7:00 p.m.)
Week 9: Bye
Week 10: at Los Angeles (Sunday, May 31, 6:00 p.m.)
Week 11 vs. Orlando (Saturday, June 6, 7:00 p.m.)
Week 12: at Tampa Bay (Friday, June 12, 7:30 p.m.)
Week 13: at New Orleans (Saturday, June 20, 8:00 p.m.)
Week 14: vs. Cleveland (Saturday, June 27, 7:00 p.m.)
Week 15: Bye
Week 16: at Portland (Saturday, July 11, 10:00 p.m.)
Week 17: vs. Philadelphia (Saturday, July 18, 7:00 p.m.)
Week 18: vs. Tampa Bay (Saturday, July 25, 7:00 p.m.)
Week 19: at Orlando (Saturday, August 1, 7:00 p.m.)
Week 20: vs. New Orleans (Saturday, August 8, 7:00 p.m.)


About the Jacksonville Sharks

The Jacksonville Sharks are members of the Arena Football League (AFL). The ArenaBowl XXIV and four-time South Division Champions are presented by Sea Best Seafood and play all home games on Sea Best Field at the Jacksonville Veterans Memorial Arena. Season Tickets for the 2015 season are now available, two tickets for as low as $99. To purchase your season tickets or for more information, please call (904) 621-0700. Follow the Sharks on facebook at facebook.com/jaxsharks and on Twitter @jaxsharks, as well as the Attack Dance Team at facebook.com/sharkattackdance and Chum at facebook.com/chumsharks.


About the AFL

Since its inception in 1987, the Arena Football League has showcased a fast-paced and exciting game to millions of fans in a myriad of markets across the country. The ESPN family of networks and CBS Sports Network will nationally broadcast AFL games each week for the entire 2014 season. The AFL schedule culminates each season with the ArenaBowl on ESPN.