News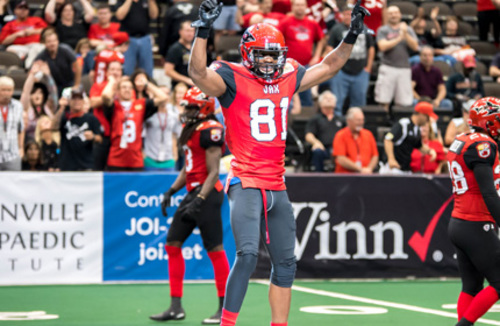 05/14/2015 7:27 AM
-
JACKSONVILLE – The Jacksonville Sharks return to Sea Best Field this week, as the team hosts the Philadelphia Soul on Saturday, May 16. Kickoff for Saturday's game is set for 7:00 p.m.

Jacksonville (2-5) enters this week's action with the opportunity to build on a victory, as the Sharks captured a much-needed road win over the Cleveland Gladiators last Saturday night. Following that win with another will be no easy feat, however, as Philadelphia (7-0) has handled all comers to this point. This is the second of three matchups between the Sharks and Soul in the 2015 regular season, as Philadelphia defeated Jacksonville by a 63-52 count on the Soul's home turf in Week 3.

One common theme between the Sharks' two victories this season was the defense's ability to string together consecutive stops, allowing the offense to build a big lead. In Week 5 against Las Vegas, the Sharks embarked on a 35-0 run to seize control of the game. Last Saturday, three turnovers helped Jacksonville put together a 26-0 surge that turned an eight-point deficit into an 18-point lead.

With that said, on Saturday the Sharks' defense will square off against a Philadelphia offense that has operated efficiently throughout the entirety of the season. The Soul lead the league with an average of 59.9 points per game, and have put up at least 54 points in every game. One reason for that success is the play of quarterback Dan Raudabaugh, who has fired 48 touchdown passes against just four interceptions this season.

Philadelphia's offense features a balanced group of three receivers who have combined to catch 40 of Raudabaugh's 48 touchdown passes. Marco Thomas is the top target, as he ranks second in the AFL with 62 receptions and has racked up a team-high total of 721 yards through the air. Ryan McDaniel caught five of his 14 touchdowns in the Week 3 matchup against the Sharks, while Shaun Kauleinamoku ranks fourth in the league with 15.7 yards per reception.

Disrupting Raudabaugh's rhythm will be one key to success this week, but the Soul signal caller has been sacked just three times in seven games. It is worth noting that two of those three sacks came courtesy of the Sharks, as Joe Sykes and Nicolas Jean-Baptiste got to Raudabaugh in the teams' first matchup. If the Sharks' front four is able to pressure Raudabaugh, Sykes will certainly be a big part of that, as he enters this week having recorded a sack in six consecutive games, and is the first player in franchise history to accomplish the feat.

On offense, the Sharks will look to put everything together in order to keep pace with the Soul. This season, quarterback Tommy Grady has completed nearly 65 percent of his passes, Derrick Ross leads the league in every major receiving category, Tiger Jones (16) and Joe Hills (15) each rank in the top five among all AFL players in touchdown catches, and the offensive line has allowed just four sacks. But with all of that said, the Sharks are just seventh in the league in scoring offense, averaging a total of 48.7 points per game.

One key to the offense's success could be another big game from Tiger Jones. In last week's victory over Cleveland, Jones was held to just 24 yards on two receptions, as Hills and Prechae Rodriguez wound up with more opportunities. But the last time the Sharks faced the Soul, Jones exploded for 239 receiving yards and five touchdowns, setting a new single-game franchise yardage record. If Jones is able to consistently win his matchup again this week, things could open up for the rest of the offense.

This week, Jacksonville's kick return unit will need to be especially aware of a potential onside kick. Dating back to last season, the Soul has executed a successful surprise onside kick in each of their last two matchups against the Sharks. In addition, Philadelphia kicker Tommy Frevert hit an onside kick against Cleveland in Week 4, giving the Soul an extra possession that proved critical in a 63-48 Philadelphia victory. Jacksonville was able to stifle all three of the Gladiators' onside kick attempts a week ago, as the Sharks look to carry that success into this week.

Ultimately, a victory on Saturday night would go a long way toward helping the Sharks gain ground in the South Division. Jacksonville enters this week a game and a half behind the division-leading Tampa Bay Storm (3-3), and one game behind the 3-4 Orlando Predators. With those two teams set to square off on Saturday, a win this week would pull the Sharks closer to one of their division rivals.


About the Jacksonville Sharks

The Jacksonville Sharks are members of the Arena Football League (AFL). The ArenaBowl XXIV and four-time South Division Champions are presented by Sea Best Seafood and play all home games on Sea Best Field at the Jacksonville Veterans Memorial Arena. Season Tickets for the 2015 season are now available, two tickets as low as $99. To reserve your season tickets or for more information, please call (904) 621-0700. Follow the Sharks on facebook at facebook.com/jaxsharks and on Twitter @jaxsharks, as well as the Attack Dance Team at facebook.com/sharkattackdance and Chum at facebook.com/chumsharks.


About the AFL

Since its inception in 1987, the Arena Football League has showcased a fast-paced and exciting game to millions of fans in a myriad of markets across the country. The ESPN family of networks and CBS Sports Network will nationally broadcast AFL games each week for the entire 2015 season. The AFL schedule culminates with ArenaBowl XXVIII Saturday, August 29, 2015 on ESPN.