News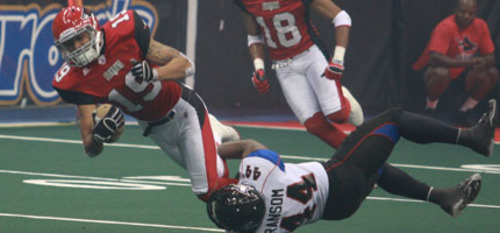 09/16/2010 3:00 PM
-
The Jacksonville Sharks announce wide receiver Sale' Key will continue catching passes for the Sharks in 2011.
Key (6'5, 215, Idaho State) returns to the Sharks after his best statistical year in the Arena Football League. Key came to the Sharks with two previous season in the AFL in both Utah and New Orleans. In those two years, Key totaled five touchdowns - all receiving.
As a Shark, Key played (and started) in 11 games - ten as receiver and one as linebacker. As a receiver, Key caught 56 passes for 640 yards and eight touchdowns. Key also rushed the ball six times for nine net yards and two touchdowns. Key contributed on defense with 18 tackles (6 solo) and four pass break-ups. On special teams, Key returned seven kickoffs for 30 yards.
Key was recognized by the league for stellar play in week 17 as a finalist for the AFL's Ironman of the Week after starting at jack-linebacker. Key notched seven tackles (3 solo) and four pass deflections. Key also caught two receptions for 13 yards and rushed the ball twice for a yard.
The Jacksonville Sharks are members of the Arena Football League (AFL). The reigning South Division Champions play all home games on Sea Best Field at the Jacksonville Veterans Memorial Arena. The Sharks return to action in March of 2011 for a sophomore season. Season tickets for the 2011 season are now available. To reserve your season tickets, group tickets, or for more information please call (904) 621-0700.