News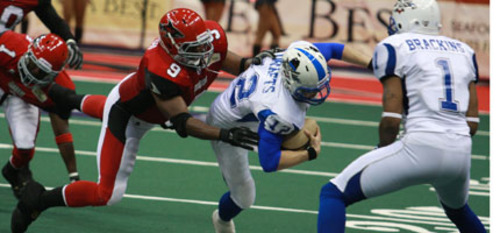 09/20/2010 1:23 PM
-
The Jacksonville Sharks announce defensive lineman Justin Parrish rejoins the Sharks for 2011.
Parrish (6'2, 255, Kent State) returns to a defense that led the Arena Football League in several statistical categories in 2010. Parrish saw action in 13 of the 16 regular season games in 2010, starting three at linebacker and four as defensive end.
Parrish finished the season as a finalist for the AFL Defensive Player of the Week in both Week 5 and Week 14. Parrish finished his rookie season in the AFL as a major contributor to the best scoring defense in the league last season. He wrapped up the opposition with 32 total tackles (21 solo).
For Parrish, three was the magic number. Parrish tallied three pass break-ups, three sacks, three forced fumbles and three fumble recoveries. Parrish returned two of the recoveries for touchdowns - both on Sea Best Field.
The Jacksonville Sharks are members of the Arena Football League (AFL). The reigning South Division Champions play all home games on Sea Best Field at the Jacksonville Veterans Memorial Arena. The Sharks return to action in March of 2011 for a sophomore season. Season tickets for the 2011 season are now available. To reserve your season tickets, group tickets, or for more information please call (904) 621-0700.