Game Day Staff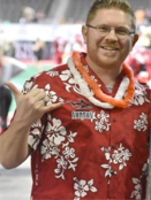 Matt Graifer "The Young Professor"
Game Day Emcee
E-mail:
"The Young Professor" Matt Graifer is an entertainer AND an actual college professor right in our own backyard! He began teaching in the Sports Medicine and Fitness Technology program at Keiser University back in 2012 when he was only 25 years old, and he's been at it ever since. He has taught courses in sports marketing, sports business management, sports psychology, and sports law/administration along with approximately 20 other college courses during his tenure. He has a Masters degree in Kinesiology from Southern Illinois University Edwardsville and has been teaching at Keiser University's Jacksonville campus for the last several years after coming over from the Daytona Beach campus.
In addition to his full time position, Matt is also the Area Manager for the Central Florida division of Challenge Entertainment, a company that specializes in weekly Live Trivia and other game nights. As if that weren't enough, you can also find The Young Professor as the ring announcer for the professional wrestling organization Go Wrestle based out of South Daytona, Florida.
Matt is a proud husband and father to four children and currently resides in Flagler county. For bookings and live events, you can find him on social media or on his website www.theyoungprofessormg.com