Game Day Staff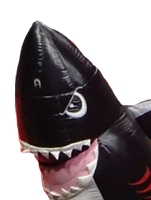 Fin
Assistant Director of Excitement
Finn is a native of the First Coast coming to shore out of Ponte Vedra Beach, FL. Finn was caught by fellow mascot Chum who was fishing during the 2014 offseason. Rather than throw him back, Chum got him a uniform and a audition with the Jacksonville Sharks arena football team.
Finn quickly impressed the Sharks staff and under the wing of his best friend and teammate Chum, the tallest sports mascot in Jacksonville got his first start during the 2015 season. During Finn's rookie year the Sharks went 10-8 and appeared in Arena Bowl XXVIII. Throughout Finn's career he has been crucial to the team winning multiple awards including "Best Mascot" and "Best Game Experience."
Finn's size & talent for show business is no accident, Finn's famous family is notorious for guest starring on espisodes of Discovery's "Shark Week." Finn's Famous Shark family includes his father 16 foot South African Great White Shark Colossus and his Mother famous Ashley Grace is quite famous visitor of the Cape Cod area appearing in several episodes of Shark Week. Chum's cousin Sand Tiger Shark Gus received recent facetime on Discovery's Shark Week in 2018.
Outside of arena football, Finn enjoys being in the community, helping chum come up with ideas, and playing two fin touch football. If you would like to book Finn for an event email: [email protected]