Game Day Staff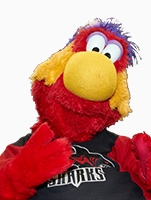 Chum
Director of Excitement
E-mail:
Chum is orginally from Amity, NY, a town made famous by the 1975 Steven Speilberg film "Jaws." Chum's father starred in the movie and was instrumental in catching the shark. The people in Amity have always loved Chum becuase of his fathers help saving the town. People were always coming to Chum and patting him on the back, telling stories about his father and all the sharks he helped fisherman catch. Unfortunately, Chum's father went out with some fishermen one day, but the boat never came back. To this day, no one knows what happened to Chum's father. Chum tried to follow his father's path and help Amity continue to rid itself of Sharks. He had worked on some local fishing trips to help fishermen catch sharks. Chum had a tough time watch sharks killed for no reason and had difficulty coming to grips with his role in life. He no longer felt uncomfortable with the praise and adoration he received from helping the fishermen catch sharks.
Chum no longer wanted to help fishermen catch sharks. He instead would sneak on to fishing boats at night and dump all the bait overboard. he wanted to do whatever he could to save sharks. Chum couldn't get to every fishing boat, but he did enough damage that people in town were getting very upset. One night, while Chum was wreaking havoc on the boats, he was caught red handed by Sheriff Brody of the Amity Police Department. When news broke the next morning, the townspeople were stunned. The son of a local hero known for killing sharks and keeping the beach safe was arrested. But instead of putting Chum in jail, it was decided that Chum would be banned for Amity forever.
As Chum sadly left his hometown, he had figured out what he wanted to do in life.... Save Sharks. This was his mission and he dedicated his life to it. Over the years, he lived along the Atlantic seaboard, trying to find a home to live out his dream. It was not until he had made it to Jacksonville, FL and learned about the Jacksonville Sharks Arena Football team that he got really excited again. Sharks that played football???? He had to find out what this was about.
Chum first saw the Jacksonville Sharks in action when they hosted the Georgia Force. When a Force fan stormed the field, Chum decided to take matters in to his own hands and help security deal with the unruly fan. Chum instantly endeared himself to the home crowd. Chum was later found at the next home game against the VooDoo and was interviewed by TJ Streit, voice of the Sharks. TJ asked if Chum would be willing to join the franchise. After weeks of phone calls and emails from Finatics, the Sharks decided to contact Chum and extend a job offer. On Wednesday, April 20, 2011, Chum accepted the offer and became the Sharks' official mascot and Director of Excitement. Most recently, in July of 2017 the National Arena League awarded Chum "Best Mascot."